Standard Chartered faces further US fine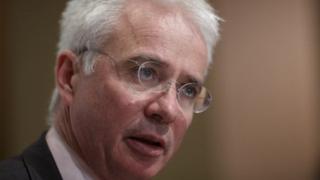 Standard Chartered warned it could face more US fines over its money-laundering controls as it reported a 20% fall in half-year profits.
US regulators have identified new problems with the bank's surveillance system, the bank said.
It faces a monetary penalty, remedial action and an extension of a two-year monitoring period.
The bank agreed a $340m fine in 2012 after it was accused of hiding $250bn of transactions with Iran.
The disclosure that it could face another penalty comes almost exactly two years after the bank and the New York State Department of Financial Services (DFS) settled the first fine.
The New York regulator and Standard Chartered are in discussions about fixing the surveillance systems, the bank said.
A spokesperson for Standard Chartered said the bank "can't give any certainty on the level of the monetary penalty", but that it expected the fine to be less than $340m.
'Disappointing' results
Standard Chartered revealed the prospect of further fines as it reported first-half profits that were 20% lower than a year earlier, in line with previous guidance.
Profit before tax fell to $3.3bn (£1.96bn), after income from its financial markets business slumped.
Standard Chartered chairman Sir John Peace said the results were "clearly not as good" as in previous periods.
The bank had warned in June that its half-year results would be "disappointing".
Earlier this year, chief executive Peter Sands was reportedly under pressure from investors to step down, but was backed by the board.
Richard Hunter, head of equities at Hargreaves Lansdown Stockbrokers, said that the bank was focusing on its investment banking and activities in countries such as South Korea to try to reverse its recent fortunes.
"Clearly they [the bank] are trying to turn the ship around very quickly," he said.
The fall in profits and the issues with Standard Chartered's US money-laundering surveillance might not put extra pressure on Mr Sands and Sir John, Mr Hunter said, as there had already been a half-year profit warning.
However, investors would be likely to scrutinise Standard Chartered's third-quarter results very closely, he added.