Energy price riggers to face jail under new proposals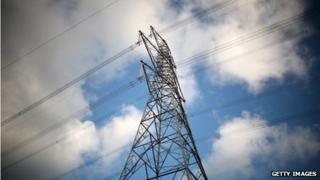 Anyone found guilty of rigging wholesale gas and electricity prices faces up to two years in jail, under new proposals by the government.
Energy Secretary Ed Davey wants it to be a criminal offence to artificially fix energy prices.
At the moment people can be investigated and fined for manipulating the market but not jailed.
Labour said the government was "struggling to catch up" two years after price-fixing claims had emerged.
The proposals come as regulators are investigating the big six energy firms and their profits.
The planned new laws would give extra power to energy regulators to prosecute people suspected of abusing the market.
Not only would fixing prices be a criminal offence, but also using insider information to buy or sell energy on the wholesale market - especially if it were to affect competition, the Department of Energy and Climate Change (Decc) said.
It added that the measures would also "safeguard consumers from unfair practices".
"Manipulating the energy market is absolutely unacceptable, and these proposals provide a much stronger deterrent - more in line with the approach taken in the financial markets," said Mr Davey.
Energy prices have been a big political issue since last year when Labour leader Ed Miliband pledged to freeze prices for 20 months if he were elected.
Effective competition
The industry regulator Ofgem welcomed the latest move.
"We want the strongest possible deterrents in place to guard against market manipulation and insider trading. We put forward the case to government for greater powers to take action if needed," said Rachel Fletcher from Ofgem.
If approved by parliament, the proposals could come into force in spring of next year.
The Competition and Markets Authority (CMA) has launched an inquiry into the UK's biggest energy companies amid concern that competition in the market is not working effectively enough.
Among other things, the investigation will consider whether profit margins at the big energy companies are excessive and whether they should be allowed to sell energy to themselves before selling it on to customers.
Ofgem has written to energy suppliers asking why lower wholesale prices did not translate into lower bills for customers.
The big six firms in the industry are SSE, Scottish Power, RWE Npower, E.On, EDF Energy and the owner of British Gas, Centrica.
Labour's shadow energy minister, Tom Greatrex, said: "This is further evidence of David Cameron's government struggling to catch up with reality after having been caught napping on the job.
"This consultation comes nine months after the energy secretary first promised to make the regulators do their job, and nearly two years since allegations of illegal price rigging in the energy markets."
He said there was "an urgent crisis of consumer confidence in the energy market", which Labour would address by freezing bills until 2017 if it won the next general election.