More than two thousand council staff on £100,000 plus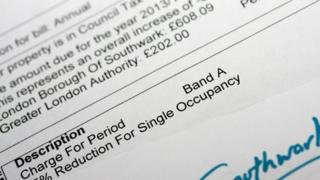 More than 2,000 council staff received pay packets greater than £100,000 last year according to a report from the pressure group The TaxPayers Alliance.
The group's Town Hall Rich List is now in its eighth year and compares pay from all the UK's councils.
It claims 2,181 council workers took home more than £100,000 in pay, benefits and pension contributions between 2012 and 2013.
However this represents a 5% fall on the previous year.
The most recent figures are also a 30% decrease from 2011.
'Eye-watering'
Jonathan Isaby, chief executive of the TPA, said: "It is good news that the number of senior council staff making more than £100,000 a year is falling, although that may only be because many authorities have finished paying eye-watering redundancy bills."
Top of the rich list was David Crawford, the executive director of Social Care Services at Glasgow Council who received £486,303 which included pension contributions of £274,988.
Wandsworth Council's chief executive Paul Martin received the highest salary, earning £274,224 last year.
More than 542 council workers took home more than the Prime Minister's £142,000 salary.
Thirty four council employees earned more than £250,000, almost ten times the average UK wage.
Vital services
The Local Government Association, which represents councils in England and Wales, said: "In the past four years local government has made significant savings to senior pay and managed the biggest cuts to local service budgets in living memory."
"Senior managers are responsible for overseeing vital life and limb services like child safeguarding and adult social care where there can be no margin for error. "
"Their pay is set to balance this level of responsibility with the need to offer good value for taxpayers' money."