BMW profits jump on China sales and new models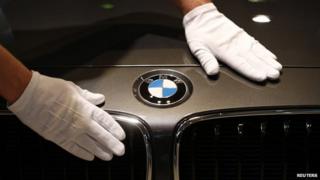 Luxury German carmaker BMW has reported a sharp rise in profits thanks to strong sales in Asia and the launch of new models.
Net profit for the second quarter was 1.77bn euros ($2.4bn; £1.4bn), up 27% on a year earlier. Revenues were up 2% to 1.99bn euros.
BMW has launched two new models this year - the 2-series and the 4-series.
The company said it was targeting record sales of more than two million vehicles for the year as a whole.
"The BMW group increased sales volume, revenues and earnings [in the second quarter], continuing the successful development of our business," said chairman Norbert Reithofer.
"We are aiming for a group profit-before-tax figure which will be significantly higher than in the previous year."
Total sales during the second quarter rose 8% to 458,088 vehicles. Asia was the main driver of growth, with sales in China rising by almost a quarter.
Rolls-Royce, the company's ultra-luxury marque, also saw strong growth, with sales up almost 30%.
BMW is the world's biggest luxury carmaker, ahead of Audi and Mercedes.