Daimler 'assisting China' over investigation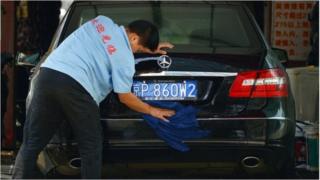 German car giant Daimler says it is helping Chinese competition authorities with a probe.
Chinese media said its Mercedes-Benz office in Shanghai has been raided by anti-monopoly officials.
It is the first car company to be targeted by China's National Development and Reform Commission (NDRC), which has been looking into the activities of western firms.
Last week, Microsoft's Chinese offices were raided.
Allegations of bribery have been levelled at other major firms, including GlaxoSmithKline, Rolls Royce and Avon.
Questioning
A report by a state-run media company Shanghai United Media Group said investigators from China's NDRC visited Mercedes-Benz premises on Monday.
It says they questioned employees and examined computers there.
The investigation is thought to be looking at vehicle prices and the company's policy of maintaining minimum prices throughout its sales network.
In an email, a spokesman for Daimler said: "We confirm that we are assisting the authorities in their investigation."
China is the world's largest car market.