Developing a flying camera for extreme sport fans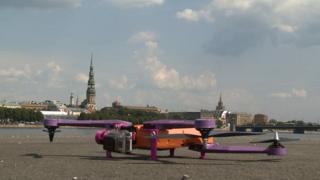 "There's no drone on the market which flies itself and can film us doing stunts," was the complaint that Latvian sports enthusiasts Janis Spogis and Edgars Rozentals kept hearing from friends.
So they invented one.
Janis and Edgars own Helico, a company which sells drones equipped with small cameras to be used in industry. Businesses use them to film or monitor operations from above.
But they're also keen fans of extreme sports - wakeboarding, surfing, BMX and kite-boarding. If there's speed, stunts and ideally a bit of danger, they'll do it.
"When I go out, I can't film myself," complained a snowboarder friend in the bar after some particularly impressive stunts. "But you guys have drones and you have cameras, why don't you fix that for me?"
So they did. And now Airdog is about to go on the market. "Your own personal cameraman, who flies and follows you," is how Janis describes it.
Folding drone
The Airdog is a small foldable drone, with four propellers, weighing about 1.6kg (3.5lb). It can be fitted with a small camera, which rests on a pivoted support, to ensure that the footage is filmed smoothly.
Its maximum speed is about 70km/h (43mph).
With the help of a GPS sensor, about the size of a large watch, attached to an arm or helmet, the drone then automatically points the camera at the user, and follows at a pre-set distance.
"We have made quite a few technology inventions using sensors, there are at least 10 technological innovations alone," says Janis.
"Nobody has done anything like this in the world," he claims.
Big ambitions
The company's workshop is in a red-brick 19th Century former brewery in a fashionable part of the capital, Riga. Next door is one of Riga's trendiest bars.
Amid the tools, skateboards and ping-pong tables a 3D printer churns out components for new prototypes - it's a hipster tech-geek's paradise.
At the moment there are 18 full and part-time members of staff. But Airdog has big ambitions.
Janis says the market of people who want to see themselves on film doing outdoor activities is exploding.
"If we achieve our targets we would become one of the biggest exporters in Latvia. It would be a real help for the whole economy.
"It shows that here in Latvia we can develop great ideas that can find markets elsewhere and that people can appreciate elsewhere," he says.
This is crucial. Although Latvia is one of the fastest growing economies in the EU, it is also one of the smallest.
Wages are low and it can be difficult for entrepreneurs to attract the necessary investment.
Million dollar start-up
So Janis and his partner Edgars have used the crowdfunding website Kickstarter to raise funds from all over the world. They finished their funding campaign at the end of July, smashing their $200,000 (£120,000) target.
Airdog has passed the million dollar mark, raising more than $1.3m, making it the most-funded Latvian start-up on Kickstarter.
This means the company is now on track to start production in October, and before Christmas the first models will be shipped out to the hundreds of thousands of customers who have already ordered.
Safety issues
But what about safety? The idea of drones flying around automatically has made critics question what would happen in case of malfunction.
It's best not to fly over crowds, recommends Janis. But adds that the user has a responsibility. Any technology, from a car to a plane, can be used safely or unsafely, he argues.
As far as legal restrictions go, Janis says that in 99% of the countries they have researched there are no legal restrictions to using drones for non-commercial private use.
Airdog is creating quite a buzz in Latvia and beyond. It has signed a deal with an American firm to help crack the US market. But Janis is adamant that the company will stay true to its Latvian roots.
"It's important for us that it remains a Latvian company because it's proof for society that great things can be produced here.
"And it's a sign for innovators and entrepreneurs that with Latvian origins, you can do well globally."