Pace of UK manufacturing growth slows in July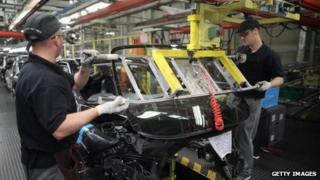 The pace of UK factory output slowed in July, but it is continuing to enjoy one of its strongest growth periods for 22 years, a survey has suggested.
Manufacturing production rose during the month to meet strong demand, according to research firm Markit.
However, the pace of growth slipped to its lowest in just over a year, the firm said.
The Markit/CIPS UK Manufacturing Purchasing Managers' Index (PMI) edged down in July to 54.4 from 57.2.
Any figure over 50 indicates expansion.
Businesses may be concerned that the crisis in the Ukraine could escalate further, weakening demands for exports to key European markets, senior Markit economist Rob Dobson said.
"If the situation with Russia deteriorates further, we should expect goods exports to come under further pressure," Mr Dobson said.
The Markit figures support Bank of England expectations that growth would slow down slightly from the rate seen in the first half of the year, he added.
Lee Hopley, chief economist for manufacturing industry body EEF, said that firms should not be alarmed by the survey findings.
"The survey continues to point to growth in activity across the sector, and at a faster pace than the long-term average," Ms Hopley said in a blog post.