Nationwide: House price growth moderates in July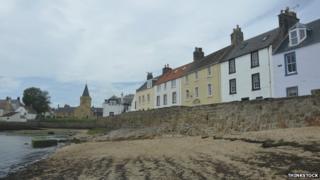 The growth in house prices is starting to moderate, according to the UK's biggest building society, the Nationwide.
Prices increased by just 0.1% over the month of July, the slowest pace since April 2013. That compares with a 1% rise in June.
Monthly figures are notoriously volatile, but the annual figure has also moderated, from 11.8% to 10.6%.
The average house price across the UK is now £188,949, said Nationwide.
A similar slowdown in prices was noted earlier this week by the Land Registry, which said that house prices fell in seven out of 10 regions of England and Wales during July.
"The slowdown was not entirely unexpected, given mounting evidence of a moderation in activity in recent months," said Robert Gardner, Nationwide's chief economist.
"And there has also been some softening in forward looking indicators, such as new buyer enquiries," he added.
The interactive content on this page requires JavaScript
Stamp duty
Earlier this week, the Bank of England said that mortgage approvals had jumped by 8% in June, suggesting that the prices are likely to continue rising for some time.
"The modest rebound in mortgage approvals in June adds weight to the notion that the slowdown will prove temporary, though the underlying pace of demand remains unclear," said Mr Gardner.
Nationwide also pointed out that the Treasury's take from stamp duty is now close to the record levels achieved in 2007.
In the year to June it said stamp duty revenue had reached more than £10bn.
It also estimates that London now accounts for 42% of all the duty paid in the UK, even though only 15% of transactions are in the capital.
There have been calls from a reform of stamp duty, which has hit many more home-buyers as prices have risen.
Buyers pay 1% on homes worth more than £125,000, and 3% on homes worth between £250,000 and £500,000.