British Gas profits hit by warmer weather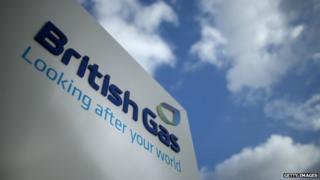 British Gas has reported a sharp drop in profits for the first half of the year due to warmer weather.
Residential supply operating profit fell by a quarter to £265m, owner Centrica said. Operating profit at the parent company was down 35% at £1.03bn.
Centrica said the average annual British Gas customer bill would be £90 lower this year than in 2013.
On Wednesday, regulator Ofgem said the big six energy firms were set to double profit margins over the next year.
The industry accused Ofgem of using inaccurate figures.
Profit margins
The predicted fall in bills this year is due to warmer weather and energy efficiencies, Centrica said, rather than to any fall in residential energy prices.
It added that post-tax profit margins would be about 4%, lower than last year and below the 4.5%-5% the company says it needs to achieve in order to make necessary investments in the business.
Centrica said the number of British Gas residential customer accounts fell by about 1% in the first three months of the year before stabilising in the second quarter.
"We had warmer weather in the UK which meant that actually our average customer's consumption of gas was down 24%," Centrica's chief executive Sam Laidlaw told the BBC.
"We actually also simultaneously had very cold weather in the US - the polar vortex - which resulted in generating companies charging us with a lot of additional ancillary costs.
"The good news from a customer's point of view is that actually we expect average bills to be down by some 7%, or £90, this year."
Mr Laidlaw also said profits would be lower this year than last, but that the group was "well positioned to return to growth in 2015".
---
Analysis: John Moylan, BBC business correspondent
These are some of the worst numbers posted by Centrica in years and come at a time of mounting challenges for this key British energy firm.
Even after the weather impact there's the "challenging" operating environment, falling wholesale prices and gas powered plants that have been running at a loss. British Gas has been shedding customers too - its lost around half a million in the past year.
As the biggest UK energy supplier it's also likely to face the heat of the Competition & Markets Authority probe into the sector. The breakup of the big 6 supplier firms could be on the cards, although today Centrica's boss Sam Laidlaw told me that he thinks that kind of outcome is unlikely.
Sam Laidlaw has led Centrica for 8 years. But his departure is part of an exodus of senior management from the firm which has at times appeared chaotic. This week the company confirmed the industry's worst kept secret - the move of BP's Iain Conn to take over as chief executive at the end of the year.
Mr Laidlaw's legacy, he says, is that he doubled the company's gas reserves, secured £60bn in future gas supplies, improved customer service and built a business in the US that is selling more gas than British Gas.
But some believe the poisoned political debate around energy has also taken its toll. His successor will need to have vision, determination and very thick skin.
---
Earlier this week, Centrica announced that Iain Conn, currently BP's head of refining and marketing, will take over from Mr Laidlaw as chief executive at the start of 2015.
Richard Lloyd, executive director of consumer group Which?, highlighted the fact that profits fell because the group sold less energy because of lower demand.
"British Gas profits are down because of a warm winter, not lower prices. Ofgem reports that supplier profit margins are set to double, while energy costs continue to be the top consumer concern," he said.
"Energy companies must do everything they can to pass on any savings to their customers, including falling wholesale and network costs. That's why we need the competition authority to establish whether the price we pay for our energy is fair."
Investigation
Ofgem estimated that the big six energy firms - British Gas, EDF, E.On, RWE, Scottish Power and SSE - would make on average a profit margin of 8% over the next year.
But the industry said the figures were not only inaccurate, but did not take tax or interest into account.
Ofgem has already referred the industry to the Competition and Markets Authority (CMA).
The CMA is looking at rising bills, service quality and profitability of big energy companies, but will focus particularly on whether they can be both energy generators and retailers at the same time.
Domestic Gas Supply Margin
2012
2011
2010
2009
Centrica
11.2%
8.1%
10.6%
7.4%
EON
-1.8%
-5.4%
-2.0%
-7.3%
EDF
-4.1%
-9.0%
-1.4%
-13.5%
RWE
1.7%
-1.6%
-0.4%
-8.8%
Scottish Power
7.1%
11.4%
6.3%
-0.9%
SSE
11.4%
8.6%
6.3%
-3.2%