World Equestrian Games: High hopes for sport's growth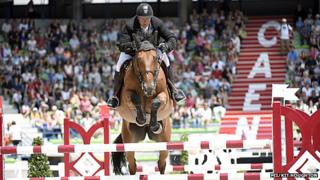 Skilful hoofwork, rather than footwork, will be the focus of the latest sporting world championship to take place this year, as leading horses and riders from around the globe gather in Normandy, northern France, this weekend.
They are taking part in the seventh World Equestrian Games, which is held in a different country every four years.
Overseen by the Lausanne-based Federation Equestre Internationale (FEI), since their launch in 1990, the Games have eight disciplines - eventing, dressage, jumping, driving, vaulting, endurance, reining, and para-dressage.
It is hoped that as well as showcasing, and expanding participation in equestrian sports, the Alltech FEI World Equestrian Games will also benefit the equine industry of north-west France.
'Break even'
"This is our flagship event, and extremely important for promoting and growing our sport," FEI secretary general Ingmar De Vos says.
The 80m euros (£64m; $107m) event budget has been met through a public-private partnership, with each sector funding roughly half of the costs.
The public investment comes from the French government, regional government, departments, the city of Caen, and other host venue towns.
Sponsors contribute 50% of the private-sector investment. The rest comes from ticketing, broadcast deals, hospitality, licensing and other events around the tournament.
"The organisers are very confident that they will break even," says Mr De Vos, who took over the FEI reins in May 2011.
"But it is a bigger picture than profit and loss. As it is a public-private event, for the organisers the first aim is not to make a profit.
"For them it is important to have the legacy, and the indirect economic impact, and use the Games to promote the equestrian industry in the region."
Normandy - France's equestrian region
4,400 equestrian companies
8,300 horse breeders with 10,000 births a year
Nearly 1,000 stallions siring half the thoroughbred, French trotter and French saddle horses in France
300 horse-riding centres
31 stadiums
Two French national stud farms and around 24 private stud farms
The Institute of Horse Pathology, the only one of its kind in the world
The Franck Duncombe Laboratory devoted to equine biology
Global TV audience
Some 500,000 spectators in total are expected over the two weeks of the Games, with an average ticket costing 25 euros.
Forty broadcasting deals have been signed around the event, including with national broadcasters, sports cable channels and FEI TV.
The deals cover Europe, but also, importantly, emerging markets such as Dubai, Japan, South Korea, Malaysia and China.
The latter is a very important market for the FEI, with a Jumping China League in Beijing, with what Mr De Vos says are encouraging signs of rising equestrian standards in the country.
"There is really a desire to be up to the levels of western Europe or the USA, they can see the potential for Olympic Games medals," he says.
With the emergence of new leisure interests such as extreme sports, strong TV coverage is important for getting FEI events to grow the sport and reach a larger audience.
"There are more TV channels now too, and our major events are televised, but we need to improve, and one of the things is to improve the graphics and production," says Mr De Vos.
Working with sponsor Longines it has a programme to improve graphics and stats around its annual World Cup Jumping event broadcasts.
Using sensors attached to horses - which they used for the first time in Lyon this April - the FEI broadcasters can show things such as how long the animals are in the air for on jumps.
There is also a drive to make the sport more understandable to new viewers.
"We need to be very attentive for the next generation and getting young people interested," says Mr De Vos.
Representation demands
The FEI is also helping federations in emerging countries to develop local infrastructures, and to increase levels of participation, with the goal of qualifying for an Olympic Games or World Games.
Sponsorship is important for this global development.
Current partners include the World Equestrian Games title partner Alltech, and other FEI backers include Longines (which is backing a proposed North American League), Reem Acra, Furusiyya, Jet Set Sports and HSBC.
However, encouraging the development of the sport means having to balance the demands of emerging nations to be represented at major events, while keeping suitable quality thresholds in place.
For example, the Olympic Games in Rio 2016 will have an overall quota for equestrian sport of 200 horses, a figure which covers three disciplines, as well as individual and team places.
"It is difficult to fit everyone in, and with our commitment to development it is a big challenge," says Mr De Vos.
"But I do think we could not do better than we do now, to give everyone the chance to participate."
Rider education
Issues of safety hit the headlines in June when two riders died on the same day in equestrian events.
"Our sport has always been one with risks, and we have been working on our eventing safety programme for the last 10 years," says Mr De Vos.
"Compared with 10 years ago, the number of fatalities or incidents have been reduced. And proportionally - our sport is a growing one - fatalities have been falling. But every fatality is one too many."
He says strong measures have been taken on issues such as ensuring riders wear helmets at all times on the show grounds, safer fence design, and tackling dangerous riding.
Preventing horse doping is another subject high on the agenda, and Mr De Vos says that the 2008 Olympics, where there were half-a-dozen failed drugs tests, was "a real wake-up call".
"We reviewed our whole testing programme. We had a clean 2010 World Games, and at London 2012 - where we have never seen such a high number of horses tested - there was not one that proved positive.
"It is very much firstly a matter of education. We are doing a very specific targeted campaign for the Normandy Games. People need to know there will be doping testing at the World Equestrian Games."
'Big future'
The sport is also addressing ways to improve horse transport and quarantine, so animals can be more easily moved around the globe while still protecting their health.
This is becoming more of an issue as the sport expands.
"We are very happy that our sport is always growing, the number of events is growing every year," says Mr De Vos. "Growing not only in absolute terms but also across the world geographically too.
"We have a very interesting fan base for sponsors and brands. And we are also one of the only sports where men and women compete on an equal basis.
"We are a very unique sport with a big future."