John Kerry on mission to woo Indian PM Modi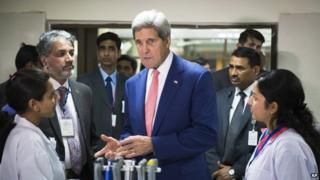 Even before he arrived in Delhi, US Secretary of State John Kerry was talking about the relations between US and India - with a promise to increase trade and investment.
In an address to the Center for American Progress, a think tank, on Monday in Washington, he quoted Indian Prime Minister Narendra Modi's poll mantra "Sabka Saath, Sabka Vikas" ("Together with all, development for all").
"We believe it's a great vision, and our private sector is eager to be a catalyst in India's economic revitalisation," he said.
This is the first high-profile US delegation to India since Narendra Modi's BJP party stormed to victory in the country's election.
Despite the upbeat political rhetoric, relations between two of the world's largest and oldest democracies are not at their best.
A bitter spat about the arrest of an Indian diplomat last year and disputes over trade and intellectual property have dominated bilateral ties. Now the Obama administration is looking to "reset" its relationship with India as a whole.
But there are many hurdles to clear.
A recent US law says companies are not allowed to sell products to the US that have been manufactured using stolen or illegal IT products.
And with a software piracy rate of 63% - second only to China - that has got tens of thousands of small and medium-sized manufacturers across India worried.
Upgrading software and complying with the new requirements is not easy but experts say risking loss of trade with the US is not an option.
Jaideep Mehta, vice president and general manager for consultants IDC in South Asia, says that companies are taking this law seriously.
"If you are an average $130m [revenues] company, $35m of that is exported to the US and you are straight away putting that at risk if you are not software compliant.
"So there is an operating cost issue and loss of business issue. Companies recognise that there is a reputational issue if you get caught."
But software piracy is just one issue India and the US are at loggerheads on.
India is desperate for more energy - and has its eye on cheap shale imports from the US.
The US currently only sells gas to countries it has a free trade agreement with. India has no such deal but wants the US to open up the market.
The US on the other hand is worried about protecting the intellectual property of its companies - especially in pharmaceuticals. India exports about $20bn worth of generic drugs and the US fears more of them coming to American markets threatens profits and jobs in its own industry.
But experts say the time is right for bilateral ties to blossom.
"India, clearly with its ambitious economic plan, needs to be reaching out to all partners," says Diane Farrell, the acting president of US-India Business Council.
"And we are pleased that the US is India's second largest trading partner. We also know that there is an enormous possibility for growth here. At the same time, the United States economy which is rebounding happily, has matured to the point that companies do need to be thinking globally."
What are the issues behind the frosty US-India ties?
Snooping: India complained to the US in July this year about spying after allegations that the National Security Agency (NSA) targeted the governing BJP.
WTO stand-off: India and the US have clashed many times at the WTO. India is now threatening to oppose a worldwide reform of custom rules unless it's given more freedom to subsidise and stockpile food grains. The deadline for the deal is Thursday.
Air safety downgrade: India has asked the US's Federal Aviation Administration (FAA) for a fresh audit of its air services after the FAA downgraded India to Category-II in safety rankings, clubbing it with Zimbabwe and Indonesia as it expressed a concern over a lack of full-time flight operations inspectors.
Defence deals: India recently raised foreign investment in the defence sector to 49% but has put in ownership limits. This has raised concerns among American firms as most would want to control their technology and protect their intellectual property.
Nuclear deal: The landmark Indo-US nuclear deal signed in 2008 was supposed to open the door for American companies with the technology to build nuclear reactors in India, but their Russian and French competitors have continued to beat them to contracts. The US wants India to clarify the law.
Visas for IT workers: Business prospects of many Indian companies have been hit as the US rejects an increasing number visa applications from Indian IT workers.
Despite the issues, trade between the US and India totalled almost $100bn last year - a fivefold increase since 2000.
As well as lucrative IT services, companies here export clothes, pharmaceuticals and engineering goods to the US - one of the largest export market for India.
And with a population of more than 1.2 billion people - and an economy growing much faster than western nations - US businesses too want more access to the Indian market.
Prime Minister Modi will visit the US later this year to meet President Obama. It could be a significant step in the thawing of the relationship between the two countries.
But some important groundwork is likely to be done here in the next few days.