Ofgem: Electricity bills to be cut by £12 a year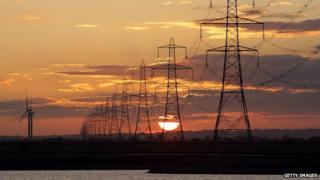 Millions of electricity customers will see an average reduction of £12 a year on their bills, according to proposals from the regulator, Ofgem.
From April 2015 it plans to limit the prices that can be charged by Britain's six distribution companies, which carry power to homes and businesses.
The curbs will affect 29 million English, Scottish and Welsh customers.
Ofgem's plans will also see the distribution companies spend £17bn to upgrade their networks.
The distribution element makes up about 8% of a typical dual-fuel bill and is part of the network costs controlled by Ofgem.
"Today's announcement is all part of Ofgem's consistent drive to get the best deal for consumers, while maintaining a stable regulatory regime which attracts investment as cheaply as possible," said Dermot Nolan, the regulator's chief executive.
Five out of the six network companies - UK Power Networks, Northern Power Grid, SP Energy Networks, SSE Power Distribution and Electricity North West - were ordered to cut their prices.
Only one, Western Power Distribution, had its pricing and investment plans approved by Ofgem.
The new prices will apply for eight years, from April 2015 until 2023.
Ofgem will announce a final decision on the proposals in November after carrying out a consultation.