Spain's economy grows at fastest quarterly rate since 2007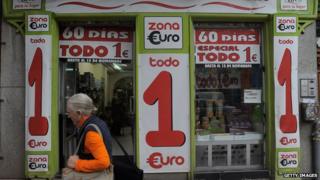 The Spanish economy grew at its fastest pace over the last three months since the end of 2007, according to Spain's statistics office.
But falling prices show the country is facing a deflation threat after it emerged from a two year recession last year.
Economic growth for the last three months was 0.6%, ahead of the Bank of Spain's forecasts of around 0.5%.
That leaves the annualised rate of growth at 1.2%.
Spanish Minister of Economy Luis de Guindos said that Spanish GDP - the value of all its goods and services - would grow by close to 1.5% this year and 2% next year.
Analyst Daniele Antonucci at Morgan Stanley said: "The Spanish economy [has] recovered further. It also looks likely that it has outgrown most of its peers - from Germany to France and Italy."
But consumer prices have been falling since the end of last year when inflation figures first turned negative.
Deflation
Deflation can prompt businesses and households to delay purchases, choking off demand and causing companies to cut staff.
Month on month, the fall in Spain was 0.9%. Prices are 0.3% lower than they were a year ago.
Spain's National Statistics Institute said in a statement: "This drop can be explained, mainly, by the stability of gasoline, food and non-alcoholic beverages prices following increases in 2013. The drop in electricity prices has also influenced this trend."
Germany reported lower inflation figures on Wednesday, adding to concerns that deflation is becoming a Europe-wide problem.
First estimates from the federal statistics office Destatis showed inflation in July dropping to 0.8% year-on-year, its lowest level since February 2010, from 1.0% in June.