Aldi sales see 'record growth' at expense of Tesco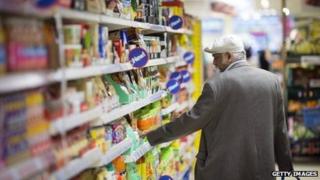 Discounters Aldi and Lidl are booming at the expense of Tesco and Morrisons, research firm Kantar Worldpanel has said.
Aldi saw a 32% sales growth rate for the 12 weeks to 20 July, said Edward Garner, director at Kantar Worldpanel.
"This is a new record for the retailer and means it has nearly caught up with Waitrose," he added.
Rival Lidl saw sales grow by almost a fifth, leaving it with a 3.6% market share.
Waitrose saw sales grow by 3.4%, a growth rate "well above the market average" the Kantar research said.
Of the big four supermarkets, Sainsbury's and Asda managed to keep their share of the market, but Tesco's and Morrisons lost out.
Tesco, which has reported lower sales for three successive quarters, saw sales drop by 3.8% in the period, Kantar said.
Earlier this month, the supermarket chain's chief executive Philip Clarke said he would stand down after criticism about his strategy, telling the BBC he felt "enormous relief" about leaving.
However, the giant still leads the market by a wide margin. Tesco holds 28.9% of the market, while its nearest competitor, Asda, has 17% market share after a modest rise in sales.
Sainsbury's held onto 16.6% of the market, but Morrisons saw its share squeezed, with sales falling by 3.8%. The chain's market share decreased to 11%, down from 11.5%.
Tesco, Asda, Sainsbury's, and Morrisons have dominated the UK market for some time.
However, in recent years, discount and high-end supermarkets have challenged the 'big four'.