Councils should show where parking fees spent, says RAC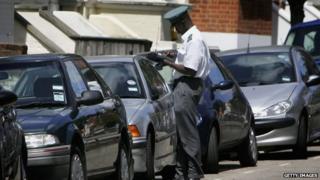 Councils should show where they are spending revenues from parking charges, according to the RAC motoring group.
Four people in five surveyed by the motoring group said parking charges had increased in towns and cities.
But two thirds of 1,525 people surveyed thought there had been a reduction in available parking near the centre of their town or city, the research found.
The Local Government Association said the report did not reflect "the reality of parking in our communities".
But RAC technical director David Bizley said: "We need transparency. Councils should be compelled to report where the money raised from parking goes - giving drivers assurance that it is being ploughed back into road and transport improvements, rather than just plugging budget holes elsewhere."
Too small
Of the drivers surveyed, 41% "were suspicious about what parking fees are used for", he said.
The poll also found that 65% of motorists reported that even when they finally found a parking space, it was too small for today's breed of cars - many of which are wider than previous generations of vehicle because of the addition of side-impact protection features.
A spokesman for the Local Government Association, said: "This report is not a true reflection of the reality of parking in our communities."
"Councils remain on the side of hard-pressed motorists by keeping a lid on parking charges which are only set to rise with inflation this year.
"On-street parking revenue is spent on paying for parking services. Any surplus is spent on essential transport projects, such as tackling the £12bn roads repair backlog and creating new parking spaces."
Many councils already published annual parking reports, he added.
Communities minister Penny Mordaunt said: "Excessive parking charges and unfair parking fines push up the cost of living and undermine local high streets and shopping parades."