BSkyB – James Murdoch's master plan comes closer to fruition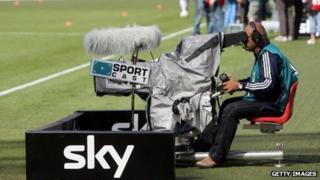 Today's announcement that BSkyB has made a £4.9bn bid to buy Sky Deutschland and Sky Italia from 21st Century Fox is, on the surface, a straightforward play by a British pay-tv business to become a European giant.
Jeremy Darroch, BSkyB's chief executive, wants to run a business whose interests do not stop at the Channel. The deal would open up the German, Austrian and Italian pay-tv markets which are not as well developed as the UK's.
As BSkyB reaches 11.5 million customers in Britain and Ireland, the room for endless subscription growth is slowing.
New products such as Sky Store (a download DVD service) and Now (the availability of Sky services without a long term subscription) do provide some opportunities for growth.
But they are probably not game changers.
This deal is.
If successful, BSkyB would go from being a UK and Ireland based business with £7bn in revenues to a business with 20 million customers and revenues of over £11bn.
Ultimate goal
Investors will have to digest the impact of the issuing of shares (which they will buy) and the increase in debt BSkyB plans to finance the deal.
The business's credit rating is likely to be downgraded as its debt increases.
One of those investors in BSkyB is of course 21st Century Fox itself, which owns 39% of the company.
So, in part, the Murdoch empire is paying itself to finance the deal.
And that leaves the bigger question - what is the ultimate goal?
James Murdoch is the chief operating officer of Fox. He was also once the chairman of BSkyB when News Corporation tried to buy the whole of the business in 2010.
That deal floundered in 2011 over media plurality issues and the fact that part of the News Corporation empire - the newspapers - was embroiled in phone hacking allegations.
James Murdoch quit as BSkyB chairman.
But he is still on the board. As is Chase Carey, to all intents and purposes Rupert Murdoch's deputy. Both men retain a high-level interest in the fortunes of the business.
James Murdoch launched the bid for BSkyB as a way of creating a vehicle for an assault on Europe.
This could well be a similar project, just via a different route.
Burning ambition
Mr Murdoch's quotes today - welcoming the BSkyB offer - are worth digesting.
"We have always believed that a combination of the European Skys would create enormous benefits for the combined business and for our shareholders," he said.
"Ultimately, a pan-European Sky is good for customers, who will benefit from the accelerated technological innovation and enhanced customer experience made possible by a fully integrated business."
"We look forward to participating in Sky's exciting next chapter under the leadership of Jeremy Darroch."
That next exciting chapter, say senior observers of the situation, could be for Fox to buy the 61% of BSkyB it does not already own.
Such a move would be a few years away, if it ever happened.
There is still the small matter of Rupert Murdoch's desire to buy the American entertainment behemoth Time Warner for $80bn. That deal will take some doing, and the cash raised by the offer from BSkyB will be welcome.
But do not bet against James Murdoch fulfilling his ultimate ambition of leading a pan-European pay-tv business.
Those close to him say that despite the defeat in 2010 and 2011, that ambition still burns brightly.