Ghost gazumping: Buyers' peril from rising house prices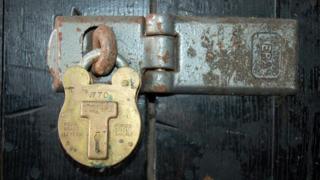 Imagine finding your dream home, and then having your offer accepted. You are ecstatic.
You instruct your lawyers and get the ball rolling. But then, just before you are about to exchange contracts, the seller drops a bombshell.
Prices have climbed so far in recent months that the seller now wants you to pay tens of thousands of pounds extra.
If you cannot - or will not - pay, the property will be put back on the market.
This scenario is known as "ghost gazumping". It is essentially the same as "gazumping" - when somebody else's better offer is accepted at the last - except there is no other buyer waiting in the wings.
Ghost gazumping has become increasingly common in property hotspots such as London, where annual house price inflation is currently running at more than 20%.
Double trouble
Lucy Franklin, a primary school teacher from South East London, has been a victim of ghost gazumping twice over the past 18 months.
Ms Franklin and her partner Louis Smith started looking for their first home nearly two years ago. They even moved in with his family, to help save for a deposit.
At the start of 2013, they finally had an offer of £170,000 accepted on a one-bedroom flat in Lewisham.
The sale was delayed owing to an issue with the freeholder of the flat, and it was nearly six months before buyer and seller were ready to exchange.
It was at that point the seller contacted Lucy with some bad news.
"The seller said that prices had increased so much during that time that they couldn't afford to sell it at the original price," she says. "They wanted about £30,000 extra."
Unable to find the extra cash, the couple were forced to pull out of the sale, and start their search all over again but, by now, their options were more limited.
"Perhaps stupidly we stayed with them the whole time they were trying to sort out the lease issue, and we weren't looking at other places," says Ms Franklin.
"In that time prices had risen so much we had to go back and revisit our budget, as there weren't any places available at that original price."
By the end of 2013, the couple had saved more money for their deposit, and found another flat in the area.
Mindful of what had happened last time, they bid £5,000 over the asking price of £175,000. In December 2013 their offer was accepted.
Again there were a few hold ups but progress was much quicker than before, and buyer and seller were aiming for an exchange in early spring.
But then, at the end of March - just as the final paperwork arrived and days before they were planning to exchange - it happened again.
"They turned around and said they wanted £40,000 more for the flat, because they believed that in the time from December to the end of March, that was how much the flat had gone up in value," she says.
"They wouldn't even meet us halfway. They said that if we couldn't afford the extra £40,000 they would remarket it."
Unable to raise the extra cash, the couple missed out again, and, as threatened, the flat went back on the market at the higher price.
Advice for buyers
Speed is of the essence. Have your lawyer and your finances in place
Develop and maintain a strong relationship with the estate agent and vendor. They are less likely to mess you about if they know you
Keep everyone posted with updates. For example, when the surveyor is going in, and so on
Source: Tracey Kellett, BDI Home Finders
Who's to blame?
There is nothing illegal about ghost gazumping.
In England and Wales, sales are always subject to contract. So, until a contract is exchanged, the seller can change his or her mind and raise the price.
In Scotland, the legal system is slightly different. Buyers do have more protection, but the state of the market means that ghost gazumping is not so much of an issue.
But just because it is legal in many part of the UK, it can still be painful.
Lucy Franklin says she had much more sympathy with the seller the first time it happened.
"We kind of understood their position because they were a young family with two children in a one-bed flat, and they needed the money to upsize," she says.
But the second time was very different - the property was not the seller's main residence.
"All along the way they were telling us - via the estate agent - that they were happy with us, and that they wanted to sell to us at the agreed price."
But, she says, they suffered owing to competition between estate agents, with one claiming the sellers could get a higher price for the property.
House price calculator
Use our calculator to see where you can afford to rent or buy
Estate agents say ghost gazumping is limited to "hot micro markets", and that it is becoming less common as these markets start to cool a little.
They also reject accusations that they are typically to blame.
"I don't think it is necessarily the agent," says Mark Hayward, managing director of the National Association of Estate Agents.
"The agent doesn't want to ghost gazump. The agent wants the sale to go through and quickly."
He says media coverage of house prices is partly to blame.
"People see headlines and they think that this applies to where they live," he says.
'Greedy, immoral and unfair'
Property buying agent Tracey Kellett is less sympathetic to sellers and their agents.
"The problem with the property market is that it brings out the very worst in people," she says. "Sellers will do to buyers what they wouldn't dream of doing to their friends and family.
"Gazumping is gazumping. It starts with a G just like greed. It is greedy, immoral, and really unfair.
"Very often buyers have spent a considerable amount of money on that purchase, only to be left high and dry."
She says that there are things that buyers can do to minimise the risk of it happening to them, such as trying to maintain a good relationship with the buyer, and keeping everyone posted with updates.
Speed is of the essence, she says.
"Make sure you have your lawyer and finance in place, ready to go," she says.
Renting again
For Lucy Franklin and Louis Smith, this advice will come as little comfort.
Prices in London have risen so quickly in recent months that most of the properties that were affordable to them only a year ago are now firmly out of their reach.
As a result they have given up their search - for the time being at least - and moved back into rented accommodation.
"We will wait until this contract ends and then think about it again next year," says Ms Franklin.
"Before I used to look at property websites every day, but since it happened a second time I haven't been on those sites once.
"I am much more relaxed. We are living in a nice area, are planning to get married, and are enjoying the summer. It has been really nice."