Standard Chartered board backs top management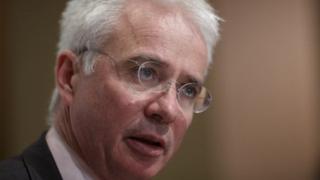 Standard Chartered bank has backed its chief executive and chairman after media reports that they are under pressure to stand down.
The board of the bank is "united in its support" of Peter Sands and chairman Sir John Peace, it said in a statement.
"No succession planning is taking place as a result of recent investor pressure," the board said.
The Financial Times had said Sir John had been urged to replace Mr Sands within the next year, then resign.
"The board wants to be absolutely clear that it is united in its support of both Peter Sands and Sir John Peace, and the management team, in delivering the refreshed strategy, restoring the bank to profitable growth and delivering returns for our shareholders," the bank said.
---
Analysis
BBC Business editor Kamal Ahmed
When a major growth phase slows, a share price comes under pressure, activists circle and a chief executive enters his eighth year in charge, negative sentiment is always likely.
Ally that to concerns that Standard Chartered's loan book is exposed to volatile Asian economies and the present investor disquiet - although de minimis at present - is understandable.
But, a word of caution. Standard Chartered is still valued at "book" - ie equal to its assets (a position that Royal Bank of Scotland, for example, would kill for).
It also has the advantage of long term incumbency in many Asian and African countries. And they are growing rapidly.
Peter Sands, the chief executive, will need to lay out a clear strategy at the bank's results next month dealing with risks in the business and why, as the bank insists, he is not going anywhere anytime soon.
---
Analyst Chirantan Barua of Bernstein Research said that the board knows it "would need management change if the bank is to drive a radically new strategy".
The bank would either need to scale back operations and become a "local bank", or scale up operations to compete with the likes of HSBC and CitiBank, Mr Barua said.
He added that the bank needed to impress investors by halting a long term decline in share price.