Portugal's Banco Espirito ex-boss arrested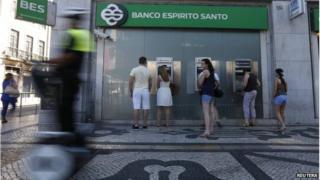 The former boss of the troubled Portuguese bank Banco Espirito Santo (BES) has been arrested in Lisbon.
Ricardo Salgado, who ran the bank for 23 years, was arrested in connection with a money laundering and tax evasion probe.
The 70-year old, who recently resigned after accounting irregularities were uncovered at the bank's parent company is expected to appear before a judge later on Thursday.
BES shares have plunged recently.
Until the recent management reshuffle, BES was a family run firm.
But speculation surrounding accounting regularities at the parent company of BES, Espirito Financial Group, led to three family members being replaced in order to restore confidence in BES, which is Portugal's largest private bank.
Mr Salgado had already been a voluntary witness in the investigation.
Last week the prosecutors office said it had several investigations under way into the Espirito Santo business empire.