Pepsico shares surge on results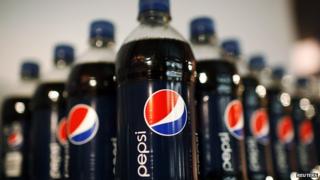 Shares in snacks and drinks giant Pepsico rose sharply after the company released a positive set of results.
Pepsico raised its earnings forecast for the year and said sales had been boosted by the launch of new products.
The company has been able to charge higher prices for its new offerings which included new flavours of Lay's crisps and a new Mountain Dew drink.
The company has been under pressure from investor Nelson Peltz, who would like the company to be split up.
He believes investors would be better off if the successful snack division was separate from the slower-growth drinks operation.
'Heat off'
Pepsico shares were up 2.5% and were trading around record levels on Wednesday.
Net income for the second quarter fell 2% to $1.98bn, but that was still better than analysts had been expecting.
Those results will "take some of the heat off," said Jack Russo, consumer staples analyst at Edward Jones.
"It's always good to have an activist shareholder in there stirring things up," he added.