Herbalife dodges Bill Ackman's promised "death blow"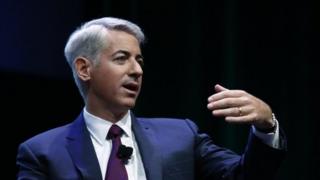 The Californian nutrition company, Herbalife, appears to have dodged the "death blow" delivered by its biggest critic on Tuesday.
Hedge fund founder Bill Ackman has been gunning for Herbalife since 2012.
But his three-hour long video presentation on Tuesday, outlining the case against the diet shake maker, failed to convince investors.
Its shares rallied 25% after the presentation. They dipped 2% in early trading on Wednesday.
Herbalife says Mr Ackman's allegations are completely unfounded.
The presentation to a 500-strong audience in New York, with thousands more tuning in via webcast, was designed to blow the cover on a company that Mr Ackman claims is a pyramid scheme, preying on ethnic minorities and the poor.
Herbalife sells its nutritional shakes and other weight-management products in 90 countries through independent direct sellers.
But it's the "nutrition clubs", first developed in Mexico, where customers can meet socially and purchase the product in small, affordable portions, that Mr Ackman has in his sights.
'Over-promised'
In December 2012, Mr Ackman's hedge fund, Pershing Square Capital Management, took a $1bn (£600m) short position on the stock, betting on the expectation that Herbalife would fail.
Over the next 19 months, the hedge fund spent $50m investigating how Herbalife's clubs operate.
On Tuesday, the hedge fund manager presented the evidence his team had recorded in the clubs, which he said showed the company was inflating customer numbers and requiring people to work unpaid in order to gain a position as a distributor.
"They are not selling weight loss in these clubs, they are selling business opportunities," he said.
"This is all free labour, totally illegal."
The company rejects the claims and says it is proud of the training it offers to potential distributors.
In a statement, Herbalife said: "Bill Ackman has over-promised and under-delivered on his $1bn bet against our company."
"After spending $50m, two years and tens of thousands of man-hours, Bill Ackman further demonstrated today that the facts are on our side.
"We recognise that he is running out of time to make good on his bad bet against Herbalife."
Tweet-back
Investors appeared to agree.
On Monday, Mr Ackman told CNBC that he would deal a "death blow" to Herbalife with his evidence.
He has appealed to investors to sell Herbalife stock for the past year and a half.
But over the longer-term, his mission appears to be failing. Since he began his campaign to uncover wrong-doing at the company, Herbalife shares have fluctuated dramatically, but are currently marginally higher than in mid-December 2012 when he first launched his campaign.
High-profile investors George Soros and Carl Icahn have both invested in Herbalife.
'Big bark'
During Mr Ackman's presentation, Herbalife took to Twitter to counter Mr Ackman's allegations.
"There is nothing compulsory about long-term training. Any member can start selling whenever they want. #AckmanFail", it tweeted.
"Like selling Avon & Tupperware - $HLF members create nutrition clubs to be like living rooms for healthy living."
Herbalife's chief financial officer, John DeSimone, described the presentation as "big bark, small bite" in an interview with Bloomberg, but added the company is considering suing Mr Ackman.​
The Securities and Exchange Commission, the Federal Trade Commission and the FBI are currently probing the company's practices.