Young adults face housing squeeze, English Housing Survey shows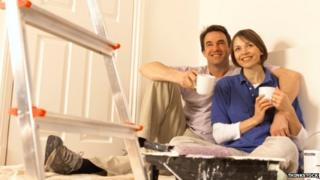 A growing proportion of young people have been squeezed out of the housing market in England and are renting privately instead, a report suggests.
The financial crisis saw a fall in the proportion of the under 35s owning their own home, the English Housing Survey shows.
Some 21% of people in this age bracket were mortgage holders in 2008-09.
However, this fell to 18% in 2012-13, with more renting privately, and so paying more of their income on housing.
Private renters aged 25 to 34 increased from 31% in 2008-09 to 45% in 2012-13, the report said.
On average, owner occupiers buying with a home loan spent 20% of their income on their mortgage in 2012-13. Meanwhile, private tenants spent 40% of their income on their rent.
The statistics offer evidence that, especially during the financial crisis, young people found it difficult to get on the housing ladder, owing to stricter lending criteria from banks and a requirement to save for a large deposit.
The survey also revealed that 61% of private renters anticipated owning their own home eventually.
House price calculator
Use our calculator to see where you can afford to rent or buy
'Build more homes'
Campaigners say that the squeeze on ownership among the young could be eased by building more homes.
Campbell Robb, chief executive of housing charity Shelter, said that young people were stuck in an expensive rent trap, unable to save up a deposit for a home.
"The government needs to give 'generation rent' the chance of a stable home by building the affordable homes we desperately need," he said.
UK housing market
Owning vs renting
14.3m
Homeowner
households
Homeowners spend 20% of income on their mortgage

Private renters spend 40% of income on their rent
Reuters
Alex Hilton, director of the National Private Tenants Organisation campaign group, said: "Renters spend two days every week working to pay off their landlord's mortgage.
"This is a financial thumbscrew applied to people who simply have no other choice of tenure and it is hard to see how this can be characterised as anything other than exploitation.
"This underlines the urgency of the need for affordable housebuilding and tenancy law reform."
Housing the homeless
Overall in England, 14.3 million homes (65%) were owner occupied in 2012-13, the survey showed. Another four million (18%) were privately rented and 3.7 million (17%) were rented from local authorities and housing associations at a reduced rate, known as social housing.
Just over a fifth of social tenants said they had been homeless prior to being housed. Two-thirds of all social renters had waited less than a year before being housed, and 8% had waited longer than five years.
The size of the private rental sector overtook the social rental sector for the first time in 2012-13, having been growing for many years.
Clearly, private tenants are more mobile than owners with a third moving in the previous 12 months compared with 4% of owner occupiers. The majority (81%) of private tenants who moved out in the previous three years did so because they wanted to move. Some 7% did so because they were asked to leave by their landlord or letting agent.
The annual report, published by the Department for Communities and Local Government (DCLG), offers a picture of the state of the nation's housing.