Public borrowing at £11.4bn in June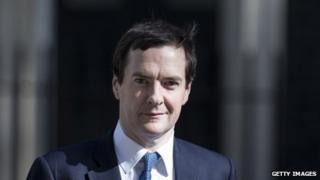 The government borrowed more than expected in June, and has failed to reduce public sector borrowing since the start of the fiscal year, official figures have shown.
Public sector net borrowing stood at £11.4bn last month, the Office for National Statistics (ONS).
The figure was above economists' forecasts of £10.65bn.
For the financial year to date, the public deficit stands at £36.1bn, up 7.3% from a year earlier.
If the current deficit trend continues, this will put public sector borrowing at about £113bn in this year, missing the government target of £95.5bn, said Howard Archer, chief UK economist for IHS Global Insight.
"The overall performance for April-June has clearly not been the start to fiscal year 2014/15 that George Osborne would have been looking for," Mr Archer said.
"One-quarter of the way into the tax year it looks like the Chancellor faces a battle to achieve his fiscal targets for 2014/15 and he will certainly need growth to hold up."
Mr Archer added that Mr Osborne will be "fervently hoping" that the public finances improve in the run up to the next general election in May 2015.
Tax distortions
The first three months of 2013 saw higher than usual income tax payments, due to a substantial amount of bonus payments being delayed from March 2013, Mr Archer said.
People wanted to capitalise on the top tax rate of tax being cut from 50% to 45% in April 2013.
Income tax in the first three months of this tax year was 3.4% lower than in the first three months of the 2013/14 tax year, he added.
David Kern, chief economist at the British Chambers of Commerce said: "Since the financial crisis, weaknesses in the financial sector and structural changes in the rest of the economy have created a major shortfall in the UK's ability to generate tax revenues, even as economic growth returns to normal."
Receipts for VAT in June were described as a "let-down" by John Bulford, economic advisor to the EY Item Club.
"VAT receipts were up just 4.3% to the same three months a year ago, the worst performance for almost a year," he said.