Lidl publishes UK tax bill for the first time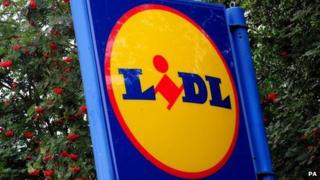 German discount retailer Lidl has published the amount of corporation tax it pays in Britain for the first time.
Lidl, which has around 600 stores in the UK with plans for a further 900, paid "more than £25m" in tax on the profits earned here in 2013.
Based on analysis by Kantar Retail, that is an effective corporation tax rate of about 20%.
That would be similar if slightly lower than the average rate paid by UK rivals such as Sainsbury's and Morrisons.
In a statement, Lidl said that, "every company had a social and economic responsibility to pay tax in correspondence with its earnings".
"The rate of tax we pay is in line with UK law and with that paid by our UK competitors."
Growing share
Lidl is not legally obliged to publish details of how much money it makes in Britain because it is a privately owned company based in Germany, where it publishes consolidated accounts with a total profit figure but not with a country-by-country breakdown.
Lidl has been criticised privately by UK supermarkets for its lack of transparency and secrecy. They have also suspected that Lidl used its opacity to avoid paying similar levels of tax as they do.
Julian Bailey, from Morrisons, said: "It's absolutely the right thing for Lidl to do (publish how much Corporation Tax it pays). It's just a pity it's taken such a long time.
"Just because we're a British retailer, we shouldn't be disadvantaged by the fact that we pay such a large amount of corporation tax. We're happy to do it and disclose it."
Lidl and fellow German discounter Aldi have seen sales increase rapidly in recent years, up by 24% and 35% respectively over the past year alone according to Kantar Worldpanel.
In contrast, Tesco and Morrisons have seen their sales fall by 3.1% and 3.9% in the same period, and the supermarkets have also seen their share prices hit.
On Monday, Tesco announced that its chief executive, Philip Clarke, was to stand down after failing to turn the company's fortunes around and compete against Lidl and Aldi.
Retails experts say that Lidl and Aldi, who between them currently control 8.3% of the UK grocery market, could increases that share to one fifth within a decade. That would come at the expense of existing British retailers who've struggled since the recession to retain market share in the face of cheaper rivals operating on lower margins.