Credit Suisse reports second quarter loss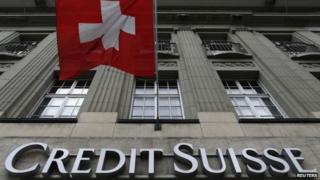 Swiss banking giant Credit Suisse has reported its biggest quarterly loss in almost six years after being hit by costs related to its settlement with US authorities over tax evasion charges.
For the three months to June, Credit Suisse recorded a loss of 700m Swiss francs ($780m; £457m).
The bank took a charge of 1.6bn Swiss francs ($1.78bn) as part of its settlement over tax evasion charges.
In the same quarter last year, it made a profit of 1.05bn Swiss francs.
The settlement with US authorities took place in May.
In a statement which accompanied the earnings release, the bank's chief executive Brady Dougan said: "I want to reiterate that we deeply regret the past misconduct that led to this settlement and that we take full responsibility for it.
"The continued trust and support of our clients helped us mitigate the impact of the settlement on our business."
Mr Dougan noted that the bank's private banking and wealth management business saw strong growth in the Asia Pacific region during the quarter, which helped to offset weakness in Western European markets.