Sky buys 70% stake in Bake Off and Benefits Street firm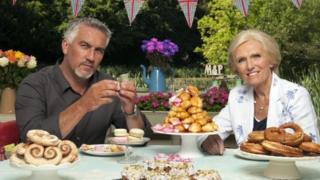 Sky has bought a majority stake in the independent production company behind programmes such as The Great British Bake Off and Benefits Street.
The satellite broadcaster has acquired 70% of Love Productions citing a strategy "to grow a broad, international content business".
Love Productions was founded in 2004 by Richard McKerrow and Anna Beattie, who will stay on to run the company.
It will continue to produce programmes for all major UK broadcasters.
But Sky's distribution business, Sky Vision, will promote Love Production's formats and programmes to networks overseas.
Sophie Turner Laing, managing director of content at Sky said: "This is a significant step for our growing international content business.
"Love is one of the UK's most innovative and creative independent producers with a track record of success."
There are already versions running in the United States of two of Love Production's formats: The American Baking Competition on the CBS network and The Baby Borrowers on NBC.
Love Productions is behind some high profile formats including the Great British Bake-off, the Great British Sewing Bee and Benefits Street, which provoked controversy over the way it portrayed inhabitants of a street in Birmingham.
It has also produced documentaries on sensitive issues such as My Last Summer on the subject of dying, and Make Bradford British about multi-cultural integration.
Love Productions will continue to operate as a distinct company under its new ownership structure. It has production bases in London, Bristol, New York and Los Angeles.
Sky has not disclosed the price it is paying for the 70% stake.