Foreign firms create 66,000 UK jobs - UK Trade & Investment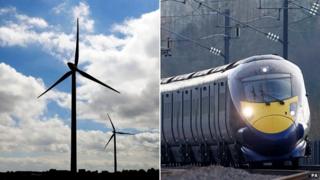 More than 66,000 jobs have been created in the UK by foreign businesses over the past year, government figures show.
More than 1,773 projects were set up, with the US, Japan, France and Germany leading the way.
More than half of inward investment was in energy or infrastructure schemes.
The statistics have been released ahead of the Commonwealth Games Business Summit in Glasgow where ministers will highlight opportunities to back new projects worth £15bn.
The figures listing new investments, expansions and mergers and acquisitions by foreign firms in 2013-2014 have been published by UK Trade and Investment, the government department responsible for encouraging overseas firms to invest in Britain.
UKTI says investment rose 8% to a record level of £975bn and resulted in the creation of 66,390 new jobs, the highest total since 2001.
Europe provided £566bn of the total, the Americas £325bn and Asia £72bn. The rest came from Australasia and Africa.
The £975bn was the second-highest total of all the countries surveyed, behind the US (£2,890bn), and ahead of Hong Kong (£845bn), France (£630bn) and China (£560bn).
The US launched 501 projects, followed by Japan on 116, France with 110 and Germany with 102. Canada backed 89 projects ahead of China (88), India (74), Italy (70), Australia (69) and Ireland (55).
---
Five foreign investments in 2013-14
Hinkley Point power station, Somerset - France's EDF energy
Royal Albert Docks, London - China's Advanced Business Parks
London Array wind farm, Kent - Canadian pension fund La Caisse
Nine Elms, hotel, office and housing, London - China's Wanda conglomerate
Airport City Manchester - China's Beijing Construction Engineering Group
---
The majority of the projects were in England but investments in Scotland (122), Northern Ireland (50) and Wales (79) each created or safeguarded significantly more jobs on average, the UKTI says.
Prime Minister David Cameron says the 2014 Commonwealth Games, which begin this week in Glasgow, will be provide another "fantastic platform" to help continue investment growth.
In a new guide detailing new projects which could attract overseas cash, Chief Secretary to the Treasury Danny Alexander says: "Top quality infrastructure, like road, rail, energy and digital, fuels growth and improves our daily lives. That's why foreign investment into our infrastructure is a win-win situation."
Among 14 infrastructure projects highlighted by Mr Alexander in the guide are three offshore wind farms in Scotland: The Neart na Gaoithe project in Fife, a scheme in the Moray Firth and the proposed Inch Cape wind farm in the North Sea .
The Circuit of Wales, a proposed motor racing track in Blaenau Gwent which could provide hotels, retail and leisure facilities along with housing, is also mentioned.
The business organisation, the CBI, welcomed the UKTI figures.
"Investment in Britain is flying high," said director general John Cridland.
"The UK is making headway in attracting investors who will be critical to the future of our economy."
The strength of the UK brand overseas was an engine for providing the growth and jobs needed to drive a healthy and sustainable recovery, he added.