Yahoo profit declines due to disappointing ad sales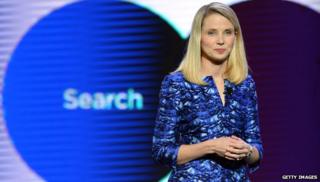 Internet giant Yahoo reported that profit decreased by 18% to $270m (£157m) during the three months to the end of June.
Revenue also fell, dropping 3% to $1.08bn.
Most of the decline was due to a sharp drop in digital display advertising, which plunged 8% in the second quarter.
"Our top priority is revenue growth and by that measure, we are not satisfied with our results," said chief executive Marissa Mayer in a statement.
The price-per-ad - that is, the amount Yahoo charges advertisers for digital display advertisements - fell 24%.
Alibaba boost
Nonetheless, the profit drop was overshadowed by news of Yahoo's plans once Chinese internet giant Alibaba becomes a publicly listed company later this year.
"We are pleased to announce today that we have entered into an amendment to the share repurchase agreement with Alibaba, reducing the number of shares that Yahoo is required to sell at the IPO from 208 million shares to 140 million shares," said Yahoo.
Yahoo has a large stake in the firm, whose stock market debut is expected to raise at least $15bn for investors.
The company also emphasised that it would return a large portion - at least half of the after-tax profits - of the proceeds from the Alibaba share sale back to investors.
That sent Yahoo's shares up over 2% in after-hours trading despite the lacklustre earnings report.