Federal Reserve warns of overvalued social media stocks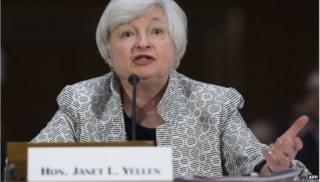 The US Federal Reserve has warned of "stretched valuations" in social media and biotechnology firms as part of chair Janet Yellen's semi-annual report in front of Congress.
The warning sent US indexes down, with shares of social media firms such as Yelp plunging.
In prepared remarks, Ms Yellen also said that she thought the US economy continued to improve.
However, she warned of weakness in the housing market and slow wage growth.
In a separate monetary policy report released as part of the Fed's semi-annual testimony in front of Congress, the Fed wrote: "Valuation metrics in some sectors do appear substantially stretched - particularly those for smaller firms in the social media and biotechnology industries, despite a notable downturn in equity prices for such firms early in the year."
That sent all three major US indexes into the red after they had been trading slightly higher during the morning.
Overall, Ms Yellen sought to allay concerns that US stock markets were in a "bubble" after the Dow Jones Industrial Average and the S&P 500 hit record highs this year.
"While prices of real estate, equities and corporate bonds have risen appreciably and valuation metrics have increased, they remain generally in line with historical norms," she said.
'Continuing slack'
In terms of the US economy overall, Ms Yellen said that she saw "continuing slack" in the US jobs market and warned of long-term unemployment that remained at historic highs.
She also said that gains in the housing market had been disappointing, and that despite better-than-expected jobs growth as of late, wages remained stagnant.
"Ms Yellen's testimony is very close to expectations as she highlights the fact that improvements in the labour market data since her last appearance in February are mitigated by the fact that significant slack remains in the labour sector," wrote US investment bank Jefferies' economists in a note to clients.
"Measures of long-term unemployment remain too high and wage growth is too low," they added.
However, Ms Yellen said that if the job market continued to improve at its current pace, the Fed might consider raising its short-term interest rate earlier than its stated timeframe of mid-2015.
"If the labour market continues to improve more quickly than anticipated by the Committee... then increases in the federal funds rate target likely would occur sooner and be more rapid than currently envisioned," she said.