JPMorgan profits fall but Goldman Sachs income rises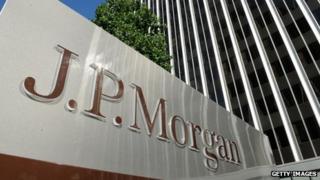 US banking giants JPMorgan Chase and Goldman Sachs have seen mixed results from their investment businesses.
JPMorgan reported an 8% fall in second-quarter profits after declines in its securities trading business.
Net income in the three months to the end of June was $6bn (£3.5bn) - a fall of $500m compared with a year earlier.
But Goldman Sachs saw a 5% profit rise after higher revenues from its investing and lending business.
The bank earned $1.95bn in the three months to 30 June, up from $1.86bn in the same period a year earlier.
Bonds fall
JPMorgan, the biggest US bank in terms of assets, saw net income from its corporate and investment business drop by $800m to $2bn, a fall of 31%.
A decline in bonds and currencies trading by big institutions hit revenue in the bank's securities trading business.
Nevertheless, the bank said it had seen a "strong performance" in overall investment bank fees.
Its results beat market expectations and JPMorgan shares rose 3% to $57.96 in premarket trading on Tuesday.
The bank's mortgage business also declined in the quarter, with mortgage lending down 38% to $709m. Mortgage application volumes dropped 54% to $30.1bn.
US mortgage lending volumes have slowed as mortgage rates have risen. Last week, the largest US mortgage lender, Wells Fargo, reported a 39% drop in mortgage revenue in the second quarter.
Goldman investment
Goldman Sachs revenues from currency and commodity trading were down 10% to $2.22bn, but the firm's investment business was buoyed by mergers and acquisitions, and equity underwriting.
The bank saw net revenue in its investing and lending division jump 46% to $2.07bn, including net gains of $1.25bn from investments in equities.
"We are pleased with our results for the quarter in the context of mixed operating conditions during the period," said Goldman Sachs chief executive Lloyd Blankfein.
"Good client activity in investment banking and investment management as well as a better environment for our investing and lending activities helped offset less favourable conditions for institutional client services," he said.