Young hit hardest by recession, says IFS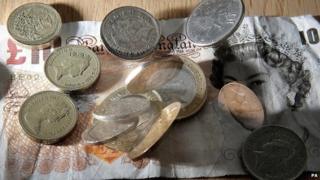 Young people were hit far harder by the recession than older generations, a report has found.
People aged 22-30 saw their household incomes fall by 13% between 2007 and 2013, while those between 31 and 59 saw a 7% drop, according to the Institute of Fiscal Studies (IFS).
Employment prospects for the under-30s were also hit harder.
Living standards are set to be a key issue in the run-up to next year's general election.
While the government has focused on the economic recovery, the opposition Labour party says living standards have yet to improve for too many people.
'Hardest hit'
The IFS report, based on government figures part funded by the Joseph Rowntree Foundation, also found that the employment rate among 22-30 year olds over the period fell by 4%, while that among 31-59 year olds remained stable.
The over 60s saw almost no impact on either houshold incomes or employment rate.
"Pay, employment and incomes have all been hit hardest for those in their 20s," said Jonathan Cribb, research economist at the IFS.
"A crucial question is whether this difficult start will do lasting damage to their employment and earnings prospects."
The report also concluded that was "no clear North-South divide" in the impact of the recession. It also noted that home ownership among the young had fallen sharply in recent decades.
Only 21% of people born in the 1980s had bought their own house by the age of 25, compared with 34% of those born in the 70s and 45% of those born in the 60s.
The Treasury said the report showed "just how hard Labour's great recession hit young people and why it's vital we keep working through our long-term economic plan to cut the deficit, create jobs and equip people with the skills they need for the future".
Labour Treasury spokeswoman Catherine McKinnell said: "While David Cameron denies there is a cost of living crisis, these figures show people have seen a substantial fall in their incomes since 2010".