Sotheby's and eBay join to offer online auctions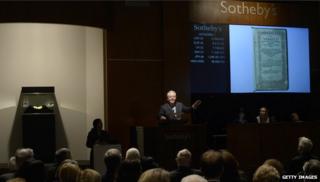 International art auction house Sotheby's and online marketplace eBay will create a web platform to allow viewers to bid on and buy art.
Sotheby's chief operating officer Bruno Vinciguerra said Sotheby's hoped to reach "the broadest possible audience around the world" with the move.
Sotheby's said the number of lots purchased online increased 36% in 2013.
Online art sales are expected to reach $13bn (£7.6bn) by 2020.
In April, John James Audubon's elephant-folio The Birds of America sold for $3.5m online via a live auction at Sotheby's - a record for the firm.
Jewellery, watches
The venture will start with live auctions streamed from Sotheby's New York headquarters, which will allow "real-time bidding from anywhere around the world".
Sotheby's will offer 18 categories to start, focusing jewellery, watches, prints, wine, photographs and 20th century design - categories the firm says have been particularly appealing to online buyers.
The move comes just ahead of eBay's earnings, which are set to be released on Wednesday, and as more and more start-ups, such as Artsy, Artspace and Paddle8 allow consumers to buy art on the web.
Last year, Amazon announced it would sell works by artists such as Salvador Dali and Andy Warhol on its website.
The two companies declined to give a firm start date for the service.