South Africa metal strike puts brakes on car production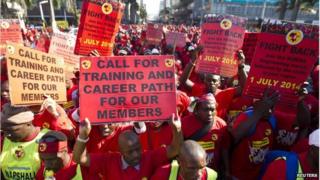 A two week-old strike by South Africa's metal workers is beginning to take its toll on manufacturing.
Japanese car maker Toyota will halt production at its Durban assembly plant from Tuesday as the supply of components dries up.
Ford and General Motors have already suspended some operations.
Workers in the engineering and steel industries have been calling for pay rises of up to 15%, which employers say they cannot afford.
The National Union of Metalworkers of South Africa (NUMSA) has rejected the latest offer by the employers' organisation to raise pay by 10% this year, 9.5% in 2015 and 9% the following year. Union leaders plan to meet on Tuesday to discuss intensifying the strike action.
The strike is targeted at the steel and engineering sector, which makes products for industries such as mines, automotives and telecoms.
Stalled
Irvin Jim, NUMSA's General Secretary, said his 220,000 members would not accept anything less than a 10% annual increase over three years.
Kaizer Nyatsumba, the Chief Executive Officer of Steel and Engineering Industries Federation said in a statement: "We have now done everything that we could possibly have done to end the strike."
Talks are continuing in the hope that a deal could be struck in the next few days.
South Africa's economy stalled at the start of this year as a five-month strike in the platinum sector undermined confidence and damaged export earnings.