Lindt to buy US rival Russell Stover in expansion drive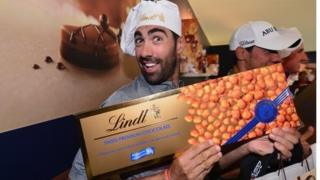 Swiss chocolate firm Lindt & Sprungli has agreed a deal to buy US rival Russell Stover.
Lindt said the takeover would help it to expand in the US, making it the third-largest chocolate manufacturer in North America.
It said it had agreed not to disclose the purchase price for the deal.
"This biggest and most important strategic acquisition in Lindt & Sprungli's history is a unique opportunity," said chair Ernst Tanner.
Lindt, known for its chocolate balls and gold foil-wrapped chocolate bunnies, said it would now expand the range of chocolates it sold in the US to include a variety of products from Russell Stover, including sugar-free chocolates.
It said it expected the deal to boost its earnings from 2015 onwards, and that as a result, it would pass $1.5bn (£870m) in annual sales in North America.
Russell Stover owns the Whitman's brand in the US. It is known for its boxed chocolates and has four chocolate factories in the US, and also runs a chain of 35 shops.
The US firm currently has annual sales of about $500m.
Both firms said the union was "a perfect strategic fit".
"The acquisition clearly signals Lindt & Sprungli's intention to improve its market position in North America," Lindt added in a statement.