David Jones shareholders back $2bn takeover bid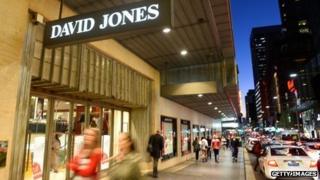 Shareholders of David Jones, Australia's second-largest department store, have backed a $2bn (£1.2bn) takeover bid from South Africa's Woolworths Holdings.
David Jones is a house-hold name in Australia but the firm has been struggling in recent years against competition from online retail outlets.
Trading in the firm's shares was halted on Monday ahead of the vote.
A federal court hearing on Thursday is the final step in the deal.
David Jones was established 176 years ago and currently operates 38 stores across the country.
The $2bn offer from the South African firm trumped an earlier bid from David Jones' rival Myer Holdings.
Ahead of the vote, David Jones' chairman Gordon Cairns said the combination of the "iconic Australian business" with Woolworths would boost the firm's product range and enhance its core values.
South Africa's Woolworth Holdings has no relationship with Australian supermarket chain Woolworths Ltd.