The costs and benefits of publishing your own books
By Kevin Peachey
Personal finance reporter, BBC News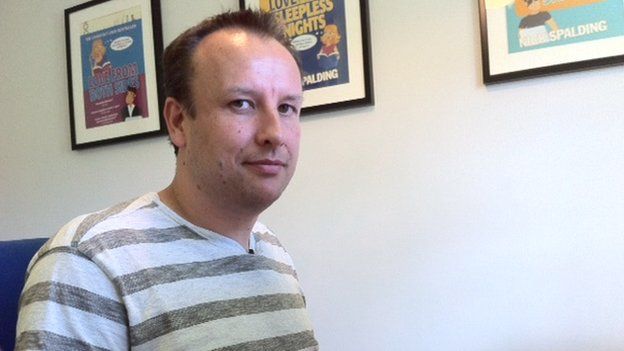 The home of author Nick Spalding is striking, owing to the lack of books.
There is no sign of the bulging bookcases and reams of paper you might expect in a writer's den. Instead, a tablet computer lies on an armchair - a virtual library of Mr Spalding's required reading and 11 of his own works.
It signals how the book world has changed as technology has moved on. It also gives a clue to how writers may be trying to make money in different ways.
The emergence of e-readers and tablet computers does not mean the end of printed books. However, it does allow writers to become their own publishers.
Yet, getting their words on the street still takes time, money, a bit of help, and a lot of luck.
Mr Spalding, now aged 40, was working as a communications officer for the police in Hampshire, but wanted to write romantic comedies.
Some years ago, he wrote what he admits was an experimental novel, unlikely to be touched by a traditional publisher.
But he then discovered that he could upload his work, and sell it to people reading e-books.
"I remember my aim was to earn enough money for my partner and I to go for a meal," he says.
"Because it was so easy to do, and because I started to earn a little more money and build up a small following, that prompted me to write another book, then another and another."
His fourth - Love...From Both Sides - sold 250,000 copies in a year and pushed him on to become one of the bestselling self-published authors in the UK.
Initially, he says, it cost him nothing. He designed his own e-book cover, and wrote his own "blurb" about the storyline. His partner was his in-house editor.
While it is possible to create a do-it-yourself e-book, even those who have self-published their work do not recommend going it alone.
Orna Ross, director of The Alliance of Independent Authors, says every author needs a good editor, which comes at a minimum cost of £1,000. Add the cost of a designer for an eye-catching cover, and someone to oversee the marketing and the costs can mount up.
She estimates that the total cost of a professionally produced book, either digital or on paper, is between £2,500 and £5,000.
Despite the upfront costs, self-publishing has become an increasingly successful option for writers.
Self-published books still account for a fraction of the overall market, but their market share and sales have soared, according to analysts Nielsen.
A recent survey of writers found that 25% of them had self-published a work, and 86% of them said they would self-publish again.
They suggested a typical return on their investment of 40%, the research for the Authors' Licensing and Collecting Society found.
It is still unlikely to be the route to fortune, the research found. The average full-time writer only earned £11,000 a year.
A self-published author tends to get about 70% of the cover price for an e-book from a company like Amazon, if they charge about £1.50 or above.
This is a larger proportion than writers are likely to get from a publisher.
But, with self-publishing, there are the upfront costs to cover. Firms have popped up that offer the various elements of producing a book, for a fee.
Others serve writers who might just want to chronicle the history of their family or their neighbourhood. These authors can still get hard copies printed on demand - to put on the bookcase at home.
The vast majority of books are still thrillers, crime novels, or romance.
If a writer is able to attract the support of a publisher, then those costs - of design, editing, marketing and, perhaps, printing - are paid for in return for a slice of the profit from their books. There is also the possibility of an advance.
"We are a publisher so our job is to give authors money, not take it from them," says Matthew Lynn, co-founder of Endeavour Press, which specialises in e-books.
"We pay for all the costs of production and we pay them a royalty depending on how their book sells."
He points out that "there are a lot of books out there" and his job is to get people to pay attention to his authors' work.
Nick Spalding's work certainly caught the attention of a publisher.
A six-figure book deal meant he was able to buy a house, to write for a living and, it seems, to give his own story a happy ending.
Related Internet Links
The BBC is not responsible for the content of external sites.