UK trade deficit widens in May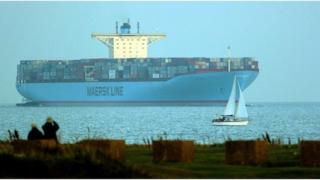 The UK's trade deficit widened in May, pushed up by aircraft imports, official data showed on Thursday.
The Office for National Statistics (ONS) said the UK's goods trade deficit grew to just over £9.2bn from £8.8bn in April.
The deficit was offset by UK's services sector, which had a £6.8bn trade surplus.
This left an overall deficit for May of £2.4bn, compared with about £2.1bn in April.
April's trade figures were revised up at the beginning of June because of a miscalculation of oil exports, before being revised down again slightly at the end of the month to finish above initial estimates.
In May, the deficit in goods widened by about £400m, mainly due to imports of aircraft, which are high-value and traded relatively infrequently.
Exports of goods to the European Union dipped by 2% to £12.2bn, while imports increased by 1.6% to £17.4bn.
European Union countries are major importers of UK goods, but weak demand in the eurozone has hampered trade.
In total, UK exports of goods increased by £0.1bn to £24.1bn, while imports of goods increased by £0.5bn to £33.3bn.
As part of efforts designed to aid economic recovery in the UK, the government has sought to help exporters with a number of measures, including increases in available export finance.