Bank of England keeps UK interest rates at 0.5%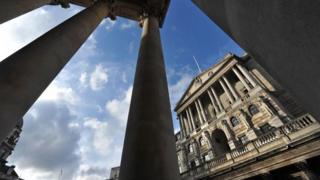 The Bank of England has held UK interest rates at a record low of 0.5% for another month.
The size of the Bank's economic stimulus programme, known as quantitative easing, was also kept unchanged at £375bn.
Last month, Bank governor Mark Carney hinted that rates could increase later this year as the UK's economic recovery becomes more secure.
When it comes, any rise in rates is expected to be small.
Speaking last month, Mr Carney said "we expect that eventual increases in Bank rate will be gradual and limited". He has also talked of rates hitting a "new normal" of 2.5% by 2017.
"Even if the Bank of England does start edging interest rates up before the end of 2014, we still expect them to only reach 1.25% by the end of 2015, 2.0% by the end of 2016 and 3.0% by the end of 2017," said Howard Archer, chief UK and European economist at IHS Global Insight.
He added that there was "considerable doubt" as to whether the Bank of England's first interest rate rise would occur in late 2014 or early 2015.
'Clear message' needed
"The [Bank's Monetary Policy Committee] has made the right decision to keep interest rates and quantitative easing on hold," said David Kern, chief economist at the British Chambers of Commerce.
"To sustain business confidence, the MPC must strive to deliver a more clear and consistent message on the future path of interest rates. The risks from raising rates prematurely are much greater than the risks of waiting a little longer."
The UK economy grew by 0.8% in the first three months of the year, the fifth straight quarter of growth. With greater confidence in the strength of the economy, there is less reason to keep rates at historic lows to stimulate growth.
The number of people out of work is also falling, with the unemployment rate down to 6.6% in the three months to May.
On the other hand, there is little pressure to raise rates to keep prices in check - the inflation rate fell to 1.5% in May, down from 1.8% in the previous month. The Bank's inflation rate target is 2%.
Interest rates have been at their record low of 0.5% since March 2009.