Three Malaysian banks considering mega-merger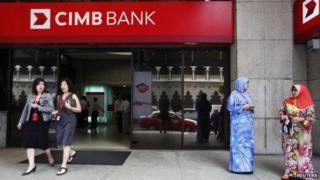 Three of Malaysia's biggest lenders are reportedly exploring a merger that would create the country's biggest banking group by assets.
Malaysia's second-biggest bank CIMB Group is said to be in talks to buy smaller rivals RHB Capital and the Malaysia Building Society.
Shares in the three firms were halted from trading in Kuala Lumpur on Thursday pending an announcement.
However, discussions are preliminary and may face regulatory scrutiny.
A combined entity may have assets worth about 614 billion ringgit ($195bn;£114bn), which would make it Southeast Asia's fourth-largest bank.
If the CIMB-led merger moves ahead, analysts believe it will put pressure on Malaysia's largest lender Maybank to also acquire new businesses.
"Maybank might want to take over Public Bank, which compared to RHB Capital, is much better in terms of asset quality, and is well-managed and well-capitalised," Ei Leen Tan from Affin Investment said.
It also could spur a wave of activity among rival regional lenders looking to increase their presence in the fast-growing banking market.
DBS made an unsuccessful multi-billion dollar bid for Indonesia's sixth-largest lender Bank Danamon last year.
Singapore's OCBC is also close to finalising its $5bn purchase of Hong Kong lender Wing Hang Bank.
CIMB has also been looking to grow its business in recent years. It bought RBS's Asia cash equities business in 2012.
The bank is led by Nazir Razak, whose brother is Malaysian Prime Minister Najib Razak, and a successful deal would mark a major coup before he steps down as chief executive in September.