Solar panel firms win High Court compensation ruling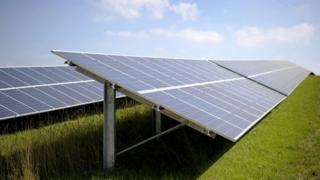 Fourteen solar panel companies are entitled to compensation from the government over cuts in subsidies for solar electricity, a High Court judge has ruled.
The firms are seeking more than £130m in damages from the UK government over changes to feed-in tariffs in 2011.
The government plans to appeal against Mr Justice Coulson's decision.
The judge said the amount of compensation "will ultimately depend on the facts".
"As a matter of general principle, the claimants have demonstrated an entitlement to damages," he said.
Government to appeal
The Department of Energy and Climate Change (DECC) said it will appeal against the ruling.
"We are unhappy about this judgement and will be appealing against it," a DECC spokesperson said.
"We believed we were proposing lawful changes to subsidies, which would protect consumers from rising bills at a time when windfall profits meant the industry was booming.
"Solar is a huge success in the UK, worth £2.2bn a year, thanks to government support, and the tariff changes that protected consumers from a £50-a-year bill rise by 2020 haven't changed that success."
After subsidies were cut, Friends of the Earth and two solar panel companies joined forces to mount a legal challenge, arguing that thousands of jobs had been put at risk.
Money 'better spent'
Andrew Pendleton, head of campaigns at Friends of the Earth, said on Wednesday: "The government's cack-handed and unlawful attempt to cut support for solar power could cost it millions of pounds.
"This money would have been better spent encouraging homes and businesses to develop their own clean energy and help wean Britain off dirty fossil fuels."
In 2011, the government gave the industry six weeks notice that financial incentives for generating solar electricity were to be halved on 12 December.
The deadline came several weeks before the end of a government consultation.
Following the Friends of the Earth challenge, a judge ruled the changes were unlawful. In 2012, the government lost a bid to overturn this High Court ruling.
A group of solar companies and construction firms then decided to seek compensation from the Department of Energy and Climate Change.
Nick Keighley of Solarlec, one of the claimant firms, said: "The good news is that small-scale solar power generation is now on the road to recovery.
"The feed-in tariff is now stable and the costs of solar PV are slowly reducing, representing increasingly better value for consumers and a very cost-effective way of generating green energy."