Is Cambridge the template for the UK economy?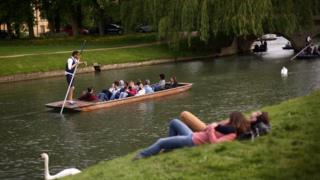 For most visitors Cambridge is all beautiful colleges, bicycling students and punting on the river.
But just outside town in the Cambridge Science Park it is another story - all gleaming laboratories and high-tech research.
This is the other side of Cambridge, which has made a great success of merging academic research with entrepreneurship, creating some of the UK's brightest and best new companies.
Abcam was started by Jonathan Milner in 1998, when he began selling antibodies to Cambridge labs from an ice bucket. Now the firm is worth almost £1bn and has offices around the world. Amongst its workforce it employs 200 staff with PHDs - more than some universities.
The antibodies are used to reveal the internal workings of cells and are vital in cancer research, and business is booming, according to Mr Milner.
"We are growing at close to 10% a year and we are recruiting people from all over the world to fuel that growth."
Cambridge businesses are at the cutting edge of research but they do not just employ graduates. They need a whole host of IT experts, sales and HR staff, technicians and all the rest.
Luckily for Abcam it is just around the corner from Cambridge Regional College.
'Best thing I've done'
It has just invested £3m in a brand new engineering department where Joshua Bird studies as part of his apprenticeship at Sepura, which makes digital radios, including for Fifa at the World Cup.
Joshua dropped out of university and joined the company instead - and he has no regrets.
"I'm absolutely loving it. It's one of the best things I've done," he says.
"I found university wasn't covering what I wanted to, it wasn't really getting into the technical side of it. It was [more] the arty side, so the decision to leave university and start an apprenticeship was probably the best thing I've ever done."
But all is not sweetness and light in Cambridge.
Locked up
It is congested and overcrowded, and riding a bike is the best way to get around town. House prices are high, making it an expensive place to live, and some companies complain about the UK's visa system.
Like many other parts of the economy it is trying to attract top staff from around the world - staff like Andrew Lynn, a Canadian who did his PhD in Cambridge and has already set up and sold two high-tech companies.
He has also spent quite a lot of time locked up at British airports.
"To really encourage people to start companies, to create companies, [the government] created a special kind of visa for people like me," he says, referring to the UK's visa scheme for graduate entrepreneurs.
"The ability to renew these visas was a little challenging and I spent quite a lot of time in a holding cell at Heathrow and one at Gatwick.
"When you are trying to run a company, [to] raise finance, it is really important that things like immigration are not an issue."
Copy Cambridge?
But that has not stopped Andrew and many others persevering with Cambridge and the reasons for that are easy to find.
According to Prof Michael Kitson, an economist at Cambridge University's Judge Business School, it all comes down to the concentration of academic excellence.
"Cambridge depends on a lot of public sector activity. It has two universities and a hospital... they attract private sector activity into the area. For instance, Microsoft's headquarters are based in Cambridge - partly because it is a source of good ideas."
So can this model for economic success be used elsewhere in the UK?
Possibly, but there is one problem. As the local joke goes: copying the economic success of Cambridge is easy, all you have to do is start with an 800-year old university.
For more on this story, listen to Jonty Bloom's report on the The World Tonight on BBC Radio Four at 22:00 BST on Friday, 11 July.