UK shop prices fall at fastest pace since 2006, BRC says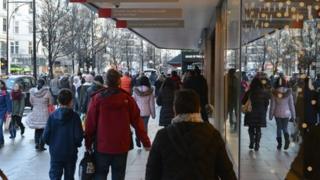 Shop prices in June fell at the fastest annual rate since at least 2006 as retailers fought to attract customers, the British Retail Consortium (BRC) has said.
Prices were 1.8% lower in June compared with a year earlier, the BRC said.
It is the biggest annual fall in prices since the BRC's survey began in December 2006 and the 14th month in a row that prices have decreased.
The price of electrical goods and clothing both fell.
Prices for non-food items were 3.4% lower in June compared with a year ago, while the rise in the cost of food slowed to 0.6% - its lowest pace since the series began.
The BRC survey does not include online retailers or costs such as energy, transport and housing, which feed into the broader official consumer price inflation (CPI) measure targeted by the Bank of England.
Competition among retailers for market share is driving the record fall in prices, the BRC said.
"Fierce competition among grocers has driven food price inflation to record low levels and with some grocers having announced plans to keep prices down, consumers stand to benefit for a while to come," said BRC director-general Helen Dickinson.
CPI inflation fell to a four-and-a-half year low of 1.5% in May, helped by the sharpest fall in food and non-alcoholic beverage prices for a decade.