US drugs giant AbbVie increases offer for Shire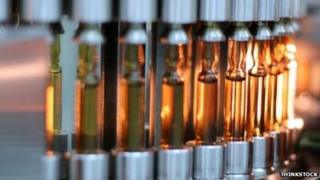 US drugs giant AbbVie has raised its takeover offer for UK rival Shire to £30.1bn ($51.3bn) in its latest attempt to persuade the firm to agree a deal.
The share and cash offer equates to £51.15 a share and is 11% higher than AbbVie's previous offer made in June, which Shire said undervalued the firm.
AbbVie chief executive Richard Gonzalez said the increased proposal was "a compelling offer".
It is AbbVie's fourth attempt to buy Shire, a drug maker for rare diseases.
"[This offer] creates immediate and long-term value to shareholders of both companies. We think its shareholders should strongly encourage the Shire board to engage in constructive dialogue with AbbVie," Mr Gonzalez added in a statement.
AbbVie said it had spoken to Shire shareholders "representing a majority of Shire's outstanding shares" before making its latest offer.
Shire has already rejected three offers from AbbVie, and has warned against a purchased based solely on its attractive tax base in the Republic of Ireland.
Founded in 1986 in the UK, Shire conducts the majority of its business in the US. It changed its tax base to Ireland in 2008.
The firm is seen as an attractive takeover target for US drug firms because it has no single controlling shareholder.
AbbVie is just one of several US firms looking to acquire companies in favourable tax locations and then relocate in the lower-tax nation, in a process known as an inversion.
US drug giant Pfizer recently failed in its efforts to do something similar with UK firm AstraZeneca after the proposed acquisition was rejected by Astra and also met with hostility from US and UK lawmakers.