Air France-KLM shares hit by profit warning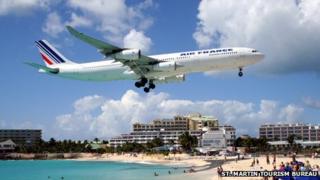 Shares in Franco-Dutch airline group Air France-KLM fell over 5% on Tuesday after it issued a profit warning.
The firm said that it expected rising competition from other airlines on long-haul flights, weak cargo demand, and currency restrictions in Venezuela to hit its earnings.
Air France-KLM revised its yearly earnings forecast down from 2.5bn euros to between 2.2 and 2.3bn euros.
The warning came just weeks after a profit warning by rival Lufthansa.
"While not representing a turning point in market trends, the June traffic figures published today as well as bookings for July and August nevertheless reflect the over-capacity on certain long-haul routes, notably North America and Asia, with the attendant impact on yields," the company said.
"This comes on top of the persistently weak cargo demand and the challenging situation in Venezuela identified in the first quarter."
Currency restrictions in Venezuela have preventing airlines from repatriating revenues from ticket sales there.
Despite the profit warning, Air France-KLM said that it still expected earnings to rise over 20% compared with 2013.