Savers missing out on higher returns, says FCA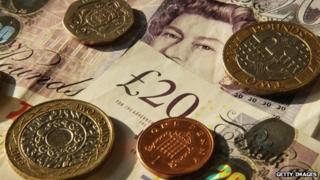 Millions of savers are receiving poor returns because they fail to move their money to new accounts, the UK financial regulator has said.
The Financial Conduct Authority (FCA) said banks were paying lower rates to customers who stayed with the same bank for years on end.
It is seeking ideas on how to encourage switching between accounts and to make it easier to compare interest rates.
But the FCA has stopped short of banning so-called "teaser rates".
These offer a higher rate of return for a limited period.
The FCA also said the big current account providers were able to attract savers, even though they offered lower rates.
The regulator found that interest rates on savings accounts opened more recently tended to be higher than those opened some time ago.
Savers who opened accounts in 2012 and 2013 received an average return of 0.8%.
However, those who had opened accounts more than five years ago, and stuck with them, only received 0.3% in interest.
'Better deals'
In its interim report, the FCA said the big banks and building societies - those with a large share of the current account market - were still able to attract savers, even if their interest rates were not competitive.
The FCA analysis shows that for easy access accounts opened in the last two years, the big providers offered an average savings rate of 0.5% per year.
Smaller providers offered an average return of 1.2%.
"Competition does not appear to be working in the interest of many consumers," said Christopher Woolard, the FCA's director of policy, risk and research.
"We want to look more closely at what is inhibiting the majority of customers from getting better deals," he said.
The FCA has decided not to take action against so-called "teaser" rates, which offer a bonus rate of interest for a temporary period.
It said the use of bonus rates has declined recently, and it concluded that they can encourage switching.
The regulator is now asking for further views on the savings market, before publishing its final report later this year.