Councils demand half a million new homes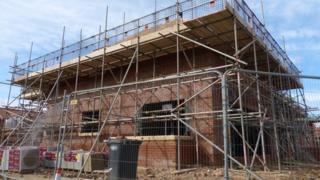 Local authorities across England and Wales are calling for plans to build half a million new homes before the end of the decade.
They say the current shortage of affordable housing is a "national scandal" and an "emerging nightmare".
The Local Government Association (LGA) - which represents 370 councils in England and Wales - is calling for a series of measures to help.
Last year just 110,000 homes were built in England, half the number required.
"The current housing crisis is nothing short of a national scandal which is going to get worse without radical action," said Councillor David Sparks, the incoming chairman of the LGA.
Amongst the measures it wants to see are:
Incentives for private developers to speed up building on sites that already have planning permission
New local Land Trusts which would allocate publicly-owned land for house-building
A removal of the borrowing cap, which limits the amount councils can borrow to build new homes
Transformation
The LGA said that unless something is done, Britain will be short of a million homes by the end of the decade.
Given the right powers, it said that councils could build homes at scale - much as they used to in the 1950s, '60s and '70s.
Otherwise it claimed that houses would continue to become less affordable.
In the last 14 years, the LGA said that house prices have risen by 155%, while average wages have only risen by 41%.
As a result, more than three million adults are now living with their parents.
"Over the last two Parliaments, the number of people under 45 who can afford their own home has fallen by a fifth," said Cllr Sparks.
"Our plans would see half a million new homes built, transforming the lives of hundreds of thousands of families," he said.