Firefighters to strike for eight days over pensions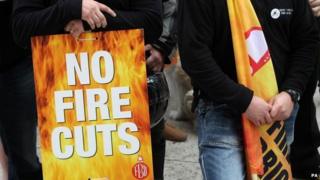 Firefighters across England and Wales will take strike action across eight consecutive days in an ongoing row over pensions and retirement benefits.
The Fire Brigades Union (FBU) said the government's proposed changes to firefighters' retirement benefits posed a "vicious attack" on their pensions.
Firefighters have been contesting the changes for three years.
The government said the deal offered was "one of the most generous pensions in the whole public sector".
Fire minister Brandon Lewis said the union kept "disrupting a taxpayer-funded service" with "unnecessary" industrial action.
The strikes will take place from Monday, 14 July at various intervals throughout the day.
'Devastating consequences'
There will generally be two hours of strike action between 6am and 8am, and then again between 5pm and 7pm, apart from Friday 18 July when the later strike will be between 11pm and 1am and on Saturday 19 July when the action will be between 11am and 1pm and 11pm and 1am.
On Sunday, 20 July there will be just one strike between 5pm and 7pm.
Matt Wrack at the FBU said the government "must realise firefighters cannot accept proposals that would have such devastating consequences" for the workers and the fire service.
He said: "Shorter strike periods have illustrated the strength of feeling amongst firefighters whilst limiting disruption to the fire service, the public and our members' working lives."
But he said the government was "ploughing ahead", making the longer strikes necessary.
Recent pensions contributions increases, to 14.2% for most firefighters, meant they were now one of the highest in the public sector, the FBU said.
'Public safety focus'
Mr Lewis said nearly 75% of members would see no change in their pension age until 2015.
He added: "Under the new scheme, a firefighter who earns £29,000 will still be able to retire after a full career aged sixty, get a £19,000 a year pension, rising to £26,000 with the state pension.
"The equivalent private pension pot would be worth over half a million pounds and require firefighters to contribute twice as much.
"Public safety will remain the primary focus and if they need help, people should dial 999, they will get a response."