Hay fever: Paying the price for an allergy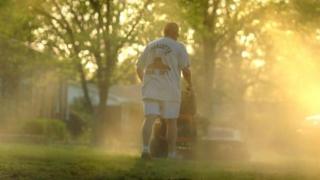 For millions of people the sunshine and long days mean one thing - weeks of sneezing, coughing and itching while battling their way through hay fever season.
But not only is it an uncomfortable time, the bill to tackle the allergy can mount up too.
Jamie Tulloch, an accountant and hay fever sufferer who lives in London, says he uses tablets and eye drops every day when he gets the symptoms.
"If I don't, I sneeze and my eyes swell up," he says. "It also means I can spend up to £10 a week on medication sometimes."
So does that bill have to be so high for sufferers like Mr Tulloch?
Similarities
He generally chooses branded hay fever medicines. His preferred pick this year has been Clarityn which costs £3.49 in Boots for a pack of seven tablets.
Clarityn contains Loratadine, an antihistamine which helps to ease inflammation in the nose and throat.
However, Loratadine is no longer under patent and several generic tablets, that contain the same dose, can also be found on the shelves of most chemists and supermarkets. For example, the Boots own-brand One-a-Day: Allergy Relief Pills also contains 10mg of Loratadine but costs less at £2.99.
"The active ingredient is the important thing," says Jayne Lawrence, chief scientist for the Royal Pharmaceutical Society.
"If the patient has the same active ingredient at the same dose, in the same type of formulation - for example a tablet - then the patient will not experience any difference between the branded and the generic formulations on a biological level."
Brands and packaging
A fifth of the British population suffer from hay fever, that is nearly 15 million people. So there is a huge customer base for drug companies and retailers to chase.
The large number of people who are affected for a relatively short period of time during the year means that the price differences between products that are essentially the same become more obvious. The same situation may occur with other drugs for other ailments.
Mr Tulloch says that the marketing material and packaging make him think he is taking a superior pill.
"I have always assumed that the branded products are better than the unbranded alternatives, maybe they work faster, or are more effective at stopping my sneezing and coughing when I am suffering from hay fever.
"I just want to make sure I do whatever I can to help myself and therefore spending an extra pound or two seems a price worth paying."
The placebo effect
In fact, with many hay fever medicines, the extra money does not buy a different product. The Boots-own "One-a-Day: Allergy Relief Pills" and the "Value Health: One-a-day allergy relief", which both contain 10mg of Loratadine, also have the same product licence number (PL:16028/0080).
That means they are actually identical. However, one costs £2.99 and the other costs 99p. When Boots was asked about these price differences, a spokesman said that the Value Health range had been discontinued and was only available in a selected number of stores. The more expensive Boots-own product will continue to be made.
Jayne Lawrence says other factors are involved when people buy the product.
"It is down to the placebo effect," she says. "People may have this belief that a branded version must be superior to the generic unbranded alternative. And once they believe this they can report different responses to the drugs. But in reality, if they both have the same active ingredient then both pills are acting in exactly the same way."
A spokesman for Boots said: "We are committed to offering great value and advice to our customers. We would always recommend that a customer speaks to the pharmacy team for advice on treating their hay fever symptoms so the right medicine can be recommended for their individual needs."
Costs and prescriptions
Sufferers may also be able to go to the GP for a prescription to manage their hay fever, and for those who do not pay for their prescriptions this could be the most cost-effective option.
However, for those who do pay for their prescriptions, then it probably is not the cheapest option. Today, a prescription for 30 hay fever tablets will cost £8.05 compared with £4 for 30 of the generic pills.
Strict regulations in the UK mean that all medicines must meet very high standards.
"If a packet says the medicine has 10mg of a drug in it then it will have 10mg of that drug in it," says Dr Helen Stokes-Lampard, a GP and treasurer of the Royal College of General Practitioners.
"People can be reassured that it is just as safe to take an unbranded products as it is to take a branded one.
"Find the antihistamine active ingredient that works for you - whether it's Loratadine or Cetirizine, or something else - and once you have found it, stick with it," she says.
"Just make sure you scan the shelves in your supermarket or chemist and find the cheapest one with that ingredient."