BT pension deal cuts longevity risk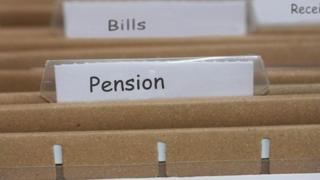 The UK's biggest corporate final-salary pension scheme has struck a deal to protect itself against members living for longer than expected.
The BT pension scheme has set up its own insurance company and then re-insured its longevity risk with a US-based insurer.
In the biggest deal of its kind, the arrangement covered 25% of the scheme's exposure to increased life expectancy.
This amounted to £16bn of the scheme's liabilities.
Staff and ex-staff who are members of the scheme will not see their contributions or pension payments affected. The deal is designed to improve the strength of the scheme.
The BT pension scheme has 320,000 members, £40bn in assets, and makes £2bn in pension payments every year, according to figures published in June 2013. The pension scheme has a promise of assistance from government, made at the time of privatisation, were BT to collapse.
The final-salary scheme is closed to new members, and is immersed in a nine-year plan to bolster its state. BT's performance as a company has been dragged down in the past owing to the need to support the pension fund.
'Appetite for large deals'
The BT pension scheme said that the longevity insurance policy would provide long-term protection and income to the scheme if its members lived longer than currently expected.
The fact that the BT pension scheme set up its own insurance company, then had the longevity risk re-insured, means that it does not pay fees to an intermediary, as would often be the case. It also means there is no intermediary-imposed limit on the size of the deal. The insurance deal has been signed with The Prudential Insurance Company of America.
"This is a ground-breaking deal in terms of size [and] structure," said Paul Spencer, chairman of the BT pension scheme trustees.
"[We are] delighted with a transaction that significantly reduces risk and provides enhanced security for members."
Other companies have taken out similar insurance, but at much lower levels. The deal is three times bigger than anything similar set up by a UK pension scheme. The record was set by Aviva earlier this year.
Ian Aley, of consultant Towers Watson, who advised the BT pension scheme on the deal, said: "Until recently, it would not have been possible to hedge anything like this much longevity risk in one go.
"A strong appetite from reinsurers means that very large deals are now possible."
However, he said he did not expect schemes setting up their own wholly-owned insurance companies to become the norm.
BT's share price rose in early trading after the move was announced but fell back later.