Record number of deaths on railways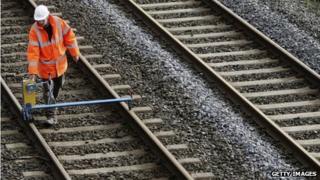 A record number of people died last year from either trespassing or committing suicide on the railways.
In all, 300 members of the public were killed, either by taking their own lives or from accessing parts that they were not supposed to.
That is 22 more than the year before and the highest number recorded so far by the Rail Safety and Standards Board (RSSB) in its 10 years of records.
However, it is still the safest form of transport on land.
The RSSB's latest report also shows a steep rise in the number of trains going through red lights. There were 293 Signals Passed At Danger (SPADS) last year, which is 43 more than the year before.
Eight people also died on level crossings.
Mick Cash of the RMT union said: "This should serve as a wake-up call to those pushing for more cuts to staffing and maintenance budgets."
Safety systems
But, having said all of that, it is important to remember that the train is still the safest form of land travel. Moreover, all of this sits against a whopping increase in the number of us actually catching a train, with journeys up 53% in a decade.
And there were no passenger or workforce deaths as a result of a train actually crashing. In fact, not one passenger train came off the rails over the past year, which is the first time that has happened for two decades.
So the big picture here is that, compared with even a few years ago, trains are safer than they have ever been.
When I met the new boss of Network Rail recently, Mark Carne, I asked him what he said in his interview to land him the top job.
He told me that his big pitch was that by making the network safer, he would make it more efficient too. He came from the oil industry, which he said adopts the same philosophy.
And his predecessor, Sir David Higgins, also regularly told me that safety came first in everything he did on the network.
Still, it is hard to understand why 293 trains went through red lights, when most people would assume we have safety systems to stop that happening.
Reduced risk
There is a system on our network, called Train Protection & Warning System (TPWS), which basically stops the train if you pass a red signal. Clearly, you have still passed the signal, but that does not in itself mean you will have a crash if you stop fairly quickly afterwards.
TPWS was introduced after the Ladbroke Grove crash in 1999, when more than 30 people died after a train went through a red light.
This latest report says: "The introduction of TPWS in the early part of the last decade significantly reduced the risk from collisions caused by SPADS (Signals Passed at Danger) but the potential for a serious accident remains."
There is something called in-cab signalling which should cut SPADS altogether. In fact, it uses no lights at all, it automatically keeps the trains apart. But it will be decades before it's introduced on all of our main lines, let alone the whole network.
So, as everyone acknowledges, the train is a fabulously safe way to travel, it's much safer than it was in the past, but there is still work to be done to make it even safer.